'the new troubadours'
---
To choose from : ERIC CHENAUX + RAMONA CÓRDOVA + BORJA FLAMES
Three troubadours take a deeper breath and combine forces and divergent air-streams. One accompanies his snaky guitar lines with a soul crooner's hollow voice, the other perches his falsetto high in pure timelessness, while the third, the heretical visionary oracular preacher, gives us something like the electronic transposition of a painting by Bosch.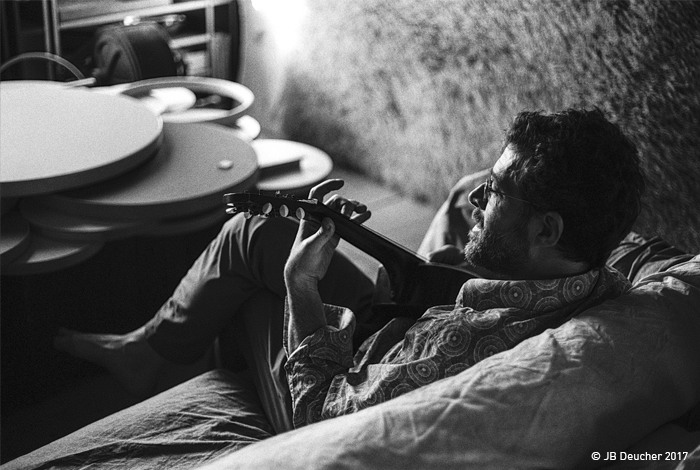 Fundamentally, Chenaux writes love songs, which he sings in a voice honeyed and clear, while his guitar gently bends, frazzes, chortles, diverges and decomposes. This juxtaposition of his mellow, dexterous crooning and his highly experimental (and equally dexterous) guitar explorations, explodes even unconventional notions of singing and accompaniment, of tonal and timbral interplay between guitar and voice. Even within avant-garde currents of folk and jazz balladry, Chenaux feels like an outlier. Yet his music remains wonderfully warm, generous and fundamentally accessible in spite of its irrefutable iconoclasm. While the constitutive elements of Chenaux's solo work in recent years might suggest some underlying devotion to asceticism, the opposite is much more true: his musical reveries resist, critique and counteract austerity in all its forms.
LINE-UP
Eric Chenaux : guitar, vocals
Indie kid raised on Midwestern grain and MTV, Ramon wrote his first songs at 9 years old and formed his first pro band at 18. But it was alone that this Philadelphian by adoption found his high-pitched voice to become Ramona Córdova. With his alchemical folk songs scattered between musical tales and gypsy music, he is an essential character of our musical time, thirsty for heart and magic.
LINE-UP
Ramona Córdova : keyboards, guitar, vocals
Using his characteristically smooth voice, Borja chants in Spanish amongst a frenzy of aberrant percussion and synthesized ejaculations, traversed by diagonal guitar lines reminiscent of dreamy mood swings  – this is strangeness personified.