'chords and bodies on the move'
---
With BLAST + JULIEN DESPREZ
A dancer leaping to the beat of a ritualistic drum as the floor quakes beneath her feet, a guitarist balletically stepping to light his pedals up like a stroboscopic landing strip, 'enter the dance'.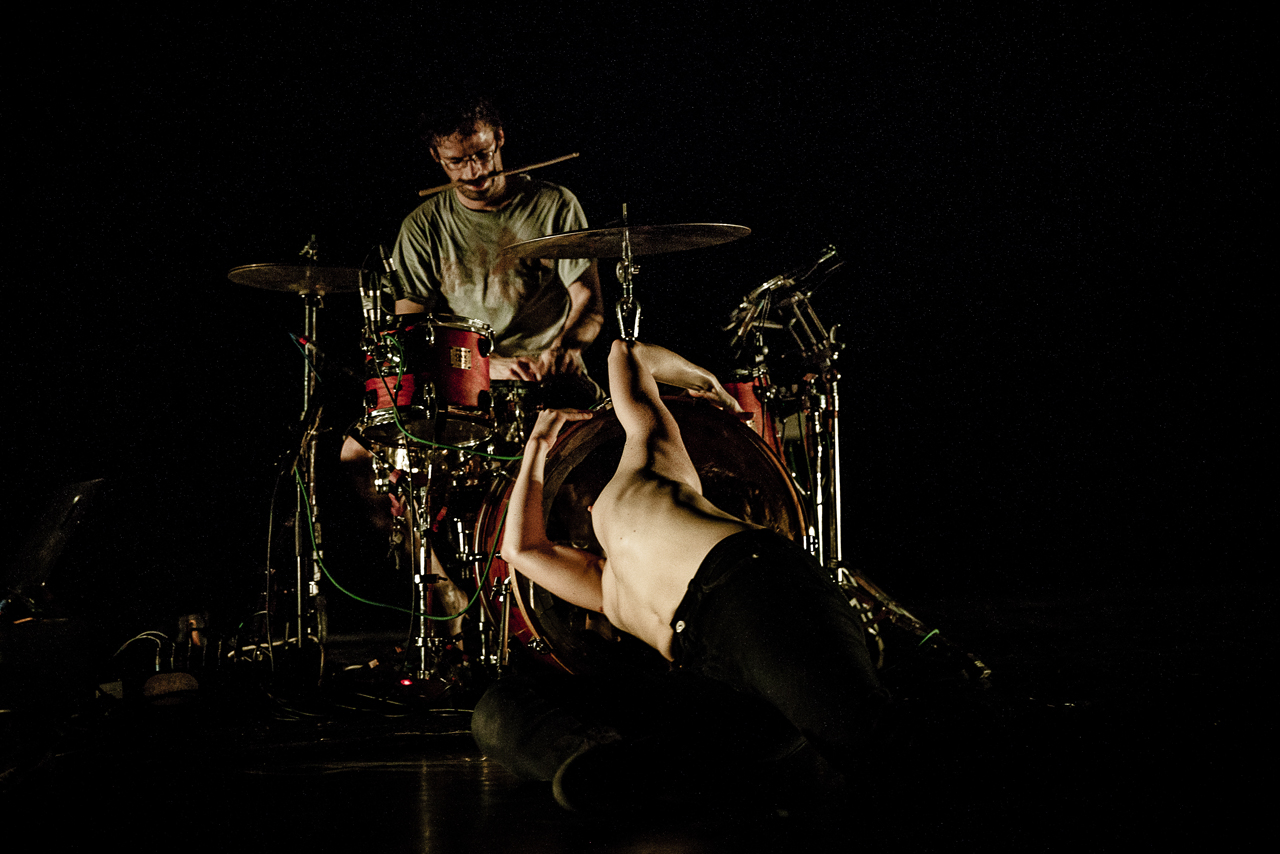 Blast is an English word synonymous with breath effect.
Blast is a percussive duet born from the meeting between Hélène Rocheteau, choreographer and dancer, and Jean-Baptiste Geoffroy, composer and drummer. Collision, where the body tries to enter the sound or to let itself be crossed by it. Resonance between the body – the power it conceals – and the power of the drums.
Ritualizing their approach, body and drums are in search of raw energy. The spectator is plunged into a hallucinatory experience made of black holes, flashes, stroboscopic visions. Neither a concert nor a choreographic piece, Blast makes us lose our bearings and invites us to other thresholds of perception. Electroshock without concession, music and dance seek their cathartic fusion point.
LINE-UP
Hélène Rocheteau : choreography & interpretation
Jean-Baptiste Geoffroy: drums & sound creation
Pascale Bongiovanni : light creation

* Production : Théâtre des Bernardines, Partner : le Temps–Machine (smac)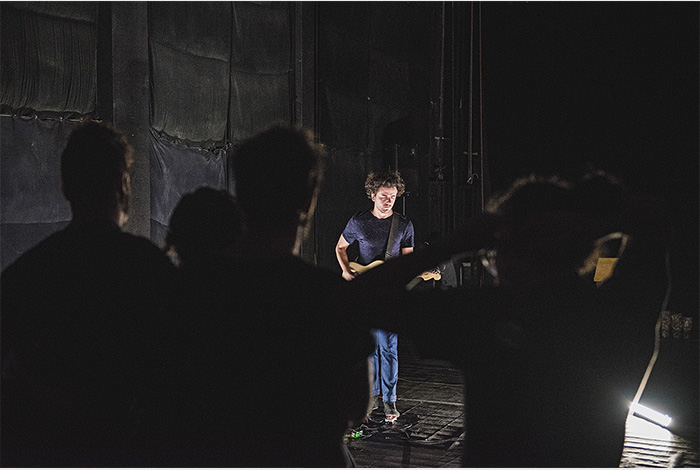 A mix of manual actions on the instrument – king of the electric guitar, coupled with a set of foot pedals, creating an unconventional approach to the guitar. Radical lighting consisting of three bars of white LEDs operated by Julien using foot pedals, control a sharp, incisive electric light live from the stage. The body is at the centre of the questioning. His live pieces sound like sound cut-ups, close to glitch music; we think in particular of Quebec techno producer Akufen alias Marc Leclair, with whom he shares this taste for jolts: his body dances when he plays and the relationship he maintains with his guitar sometimes evokes the gestures of a magician who has marabouted a beast trainer.
LINE-UP
Julien Desprez : guitar, effects pedals, lights, installation
* Production : La Muse en Circuit – Centre national de création musicale.
Co-production : Collectif Coax— Compagnie Nationale, La Dynamo de Banlieues Bleues