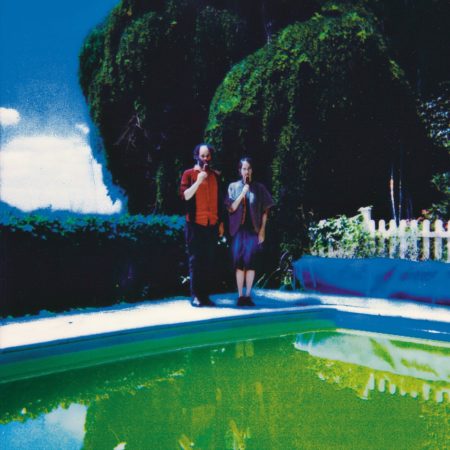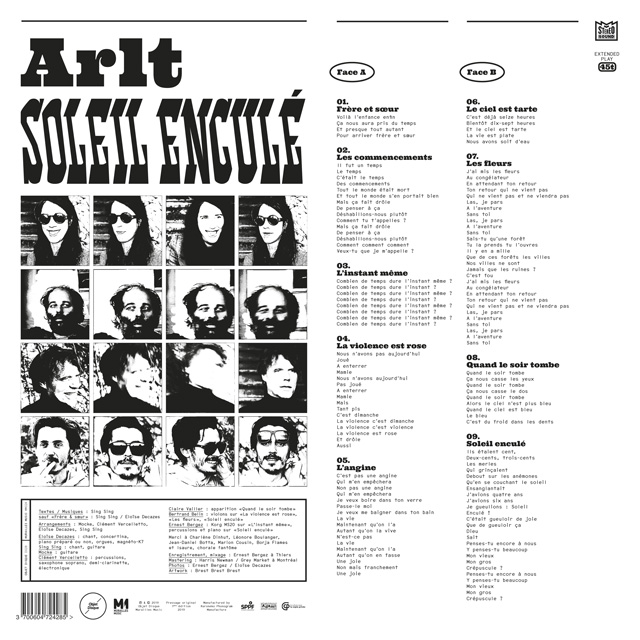 Buy
---
TRACKLISTING
Frère & sœur

Les commencements

L'instant même

La violence est rose

L'angine

Le ciel est tarte

Les fleurs

Quand le soir tombe

Soleil enculé
---
PRESS
Muzikalia

{:en}'Su cuarto disco, 'Soleil Enculé' es la inmejorable puerta de entrada a la particular cosmología de esta pareja que come helado mientras observan con embeleso el agua de tono verdoso de una piscina. Es un entorno irreal y fantasmático el que muestra la portada de este disco, pero invita a zambullirse con ellos en estas aguas en apariencia apacibles, aunque pequeños seísmos desatan turbulencias inesperadas. (...) Un descubriendo fascinante. Pónganse el flotador si no saben nadar.'{:}

FIP

« Arlt nous embarque dans son monde brut de pomme acidulée avec neuf chansons excentriques toutes droit sorties de la cour de récré. Neuf cocottes en papier à manipuler ( "combien t'en veux ?" ) avec gages ou questions imprimés sous chaque couleur pour réinventer l'histoire à venir, ensemble.»

LIBÉRATION

"Sur son quatrième album, le duo francilien devient grand ensemble et mute en un fascinant orchestre freak électrique, à mi-chemin de la casse et de la Voie lactée. Découvrez «Soleil enculé», leur plus accidenté et leur plus lumineux."

LES INROCKS

"On entend une multitude des choses dans 'Soleil enculé' avec une grâce de guingois et une gestuelle que l'on imagine facilement ponctuée de percussions, cuivres et vents, de guitares jouées par Sing Sing et Mocke. Les violons de Bertrand Belin passent dire bonjour…" - Sophie Rosemont

LES JOURS

"Le duo composait – et compose encore aujourd'hui – des chansons qui cherchent à atteindre le même niveau de beauté simple, d'épure des mots et des sensations qui polissent certains airs au fil des siècles pour en faire un patrimoine commun." 

FRANCE INTER

"Tendresse qui grince, blues déglingué ou tropicalisme vénéneux. On ne saurait pas vraiment ranger Arlt sous une appellation contrôlée." - Mathieu Conquet

RANDOMSONGS

" 'Soleil Enculé' se termine par un ultime paradoxe, nous calmer avec un rythme perdu, comme un vieux blues qui grince. Il nous noie sous un ensemble de sons chaotiques dont l'art brut nous hante jusque dans notre sommeil. Les paroles tournent en boucle, sans nous hypnotiser. Le chant s'accentue jusqu'au bouquet final où il ne reste plus que harangue et mantra. Entre-temps, les orgues geignent, les rythmes partent à l'aventure les guitares deviennent totalement free et puis tout s'arrête."

Fluide Glacial

"C'est pas propre, c'est pas poli et ça swingue comme une chouette clouée à la porte de la grange. Bref, un joli gourbi sonore, entêtant et radieux, impec pour désensuquer les têtards dès potron-minet." - Thomas Bernard
Arlt
Soleil Enculé
MM024 / D028
Release date: 11/15/2019
It would seem that 'Soleil enculé' (Sodomized Sun) is not Arlt's fourth album. In fact, it has all the earmarks of being their brand new very first debut. Let's just call it that. 'Soleil enculé' (Sodomized Sun) is Arlt's brand new very first debut album, written and recorded while under the influence of surprise, the surprise of a new first encounter, of a new morning-after retuned.
'Soleil enculé' was envisioned, sketched, fantasized from the vantage of childhood's territory found anew, a place of the mind and body sometimes only discovered after the big dramas of adulthood, a place where eyes and hands have once more the power of making everything surprising, stimulating, desirable.
The recording was permeated with the otherworldly joy of coming together again and bringing into the brotherly pack two newbies: Ernest Bergez (Sourdure, Kaumwald, Orgue Agnès) as producer and Clément Vercelletto (Kaumwald, Orgue Agnès) on percussion, brass, winds, and electronic derangements.
Equal parts pop songwriting, free improvisation and freaky montage, the album crashes through nine songs in thirty minutes — songs which, happy or wistful, are always radiant, lush, sunlit and tripped-out. This is an album that melds, subverts, amplifies the band's every obsession and strings it on a toxic necklace like so many chemical noodles.
Eloïse Decazes breathes through the reverb like sunshine through a stained glass window. She injects playful turbulence with her free jazz tinkles on the piano, heart-wrenching harmonies on the concertina, slaps on the organ and blasts of the throbbing giant tape machines. The singer we knew as a starry ethereal firefly turns out be a wild, debauched, poetic and burlesque instrumentalist. Meanwhile at the mic, 'Soleil enculé' takes turns shape-shifting from bearded diva to carnival crooner to children's choir, all by his lone self. His guitar staggers throughout while Mocke's dazzles and chimes, with brash solos, waves of noise and fake orchestral maneuvers that blend with the saxophone and half-clarinet. The percussion comes in and out of the speakers with triplety loops, bells and motor chirps that make the band groove like never before. And on top of all that, pal Bertrand Belin throws in some violins. Claire Vailler makes a cameo. As do Léonore Boulanger, Jean-Daniel Botta, Marion Cousin, Borja Flames and Charlène Dinhut.
With its Sci-Fi Rumba, orchestral chanson, post-punk rebetika, minimalist Tropicalia, creole madrigals, death ballads, and telepathic Pop, 'Soleil enculé' is Arlt's brand new first album, and it is perhaps their best.
Credits
Lyrics/Music: Sing Sing
except for "Frère & sœur" : Sing Sing / Eloïse Decazes
Arrangements : Mocke, Clément Vercelletto, Eloïse Decazes, Sing Sing
Eloïse Decazes : voice, concertina, piano & preparations, organs, tape recorder
Sing Sing : voice, guitar
Mocke : guitar
Clément Vercelletto : percussion, soprano saxophone, half-clarinet, electronics
Claire Vailler : cameo "Quand le soir tombe"
Bertrand Belin : violins on "La violence est rose", "Les fleurs", "'Soleil enculé'"
Ernest Bergez : Korg MS20 on "L'instant même", percussion and piano on "'Soleil enculé'"
Thanks to Charlène Dinhut, Léonore Boulanger, Jean–Daniel Botta,
Marion Cousin, Borja Flames and Isaure, ghost choir
Recording, Mix: Ernest Bergez at Thiers
Mastering : Harris Newman / Grey Market in Montréal
Photos : Ernest Bergez / Eloïse Decazes
Artwork : Brest Brest Brest
© Murailles Music – Objet Disque
---
LINKS
---