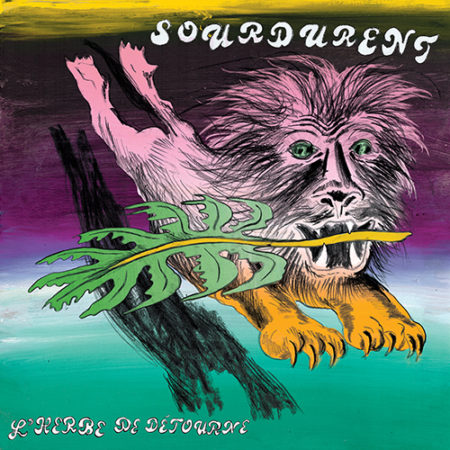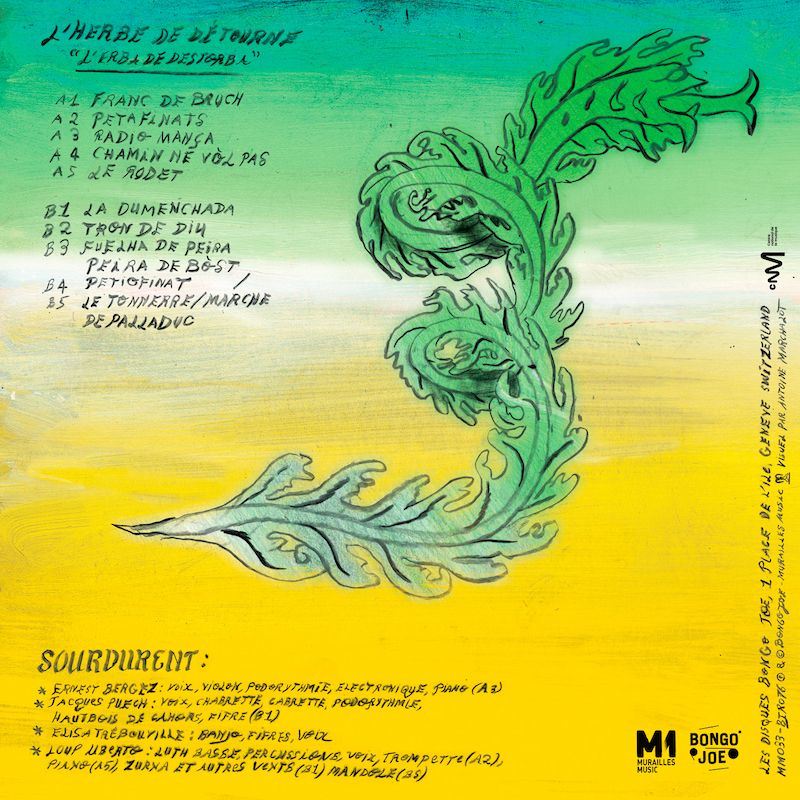 Buy
---
TRACKLISTING
Franc de Bruch

Petafinats

Radio Mança

Chamin ne vòl pas

Le Rodet

Alytes (CD Only)

La Dumenchada

Tron de Diu

Fuelha de Peira, Peira de Bòst

Petiofinat

Le Tonnerre / Marche de Palladuc
---
PRESS
The Quietus - Rockfort

{:en}"Growing organically out of live performances, the band throw a variety of sources into the pot, blending traditional music from Afghanistan, Tunisia and the Averyron department of southern France with original compositions in Occitan, and judicious use of electronics." - David McKenna{:}

Magic RPM

"Chansons d'auberges ou de bals populaires, musique religieuse ou profane, 'L'Herbe de détourne' soude de nouvelles communautés, hors de tous standards et carcans, et vous invite, par delà l'étrangeté linguistique, à rejoindre leurs danses sans âge." - Wilfried Paris

The Guardian

"The brainchild of Ernest Bergez, Sourdurent's L'Herbe de Détourne, is a brilliantly unhinged 11-song set, inspired by Middle Eastern strings and minimalism as much as folk from the Auvergne, spiked with cabrettes (Auvergne bagpipes), fifes and bass lutes."

The Wire

{:en}

"The traditional repertoire from France's Massif Central mutates and hybrides with invited forms inspired by traditional Greek, Persian and North African music, while the region's Occitan language provides both musical material and a poetic and emotional springboard."  

{:}

Folk radio

{:en}

" 'L'Herbe De Détourne' is a bold venture, and for those willing to be adventurous in their listening, the results are deeply rewarding." - David Pratt

{:}

Songlines

{:en}"Unsettling drone underlies fife, banjo, bass lute, violin, assorted electronic noises and, above all, Bergez' sometimes almost deranged vocals to suggest a soundtrack to a dystopian medieval drama"{:}

Rythmes Croisés

« Jusqu'au bout, Sourdurent cultive un dépaysement multi-dimensionnel en plus d'être multiculturel, mais brandit bien haut son appartenance identitaire, (…) en ouvrant un nouvel éventail de possibles par une accentuation du vertige spatio-temporel et de ses brèches hallucinatoires. Contre les mauvaises herbes du pseudo-folklore sclérosant, goûtez donc cette 'Herbe de détourne' qui ne pousse que hors des sentiers battus… »
Sourdurent
L'Herbe de Détourne
MM033
Release date: 05/05/2023
SOURDURENT :
Ernest Bergez : vocals, violin, podorythmie, electronics, piano (3)
Jacques Puech : vocals, cabrette, chabrette, podorythmie, hautbois de cahors
Elisa Trébouville : banjo, fife, vocals
Loup Uberto : bass lute, percussion, vocals, trumpet, piano (5), mandolin (9)
L'Herbe de Détourne

Place where some people walk at and find themselves lost
Compositions and texts by Ernest Bergez except for :
– Chamin ne vòl pas : Afghan translation ("Belarzik", in "Folk Music Of Afghanistan Vol. 2" Lyrichord), text : Bergez
– Le Rodet : Aveyronnais translation
– Le Tonnerre+Tron de Diu : Tunisian trad (by Lotfi Jormana Group, in "The Music Of Islam, vol 8, Folkloric Music Of Tunisia), text inspired by the Koran.
Recorded by Sourdurent and Johann Berger between April and May 2022 at Le Gamounet (St Bonnet Près Riom, 63) and Chez Lily (Germ-Louron, 65).
Thanks to Franck and Laurença, Les Brayauds CDMDT 63, l'AMTA and lo CMTRA.
Illustration & Artwork : Antoine Marchalot
MM033-BJR076 ℗ & © Murailles Music – Bongo Joe
---
LINKS
---