News
Bio
Cette dernière décennie, notre ami autodidacte de Kingman, Arizona l'a passée à errer à pieds, à cheval, à bus, en voiture, en bateau, en train, en truck entre l'appart d'un camarade de label à Saint-Ouen et une maison abandonnée dans la Nouvelle-Orléans post Katrina; à travailler torse nu sur des chalutiers de fret rongés par la rouille ou à prendre l'avion avec moins d'un euro en poche ; à jouer du violon dans les rues de Banyuls-sur-Mer ou Moscou ; à ramasser des tubercules aux noms rares dans des champs baignés de soleil ou tenter une nouvelle vie dans une petite maison au milieu d'un bois en Alaska.
Pendant ces années, Ramona Córdova a effectué de nombreuses tournées aux côtés de Cat Power, Shugo Tokumaru, Seu Jorge, Four Tet ou encore Dirty Projectors.
À son retour aux États-Unis à la fin de 2014 pour assister à la 45e élection présidentielle américaine, il a écrit son troisième album 'On Paper'  et il travaille maintenant sur la production de son quatrième album.
So we can't write about this record and avoid mentioning a few anecdotes. In these times when so-called gripping life stories abound around pop music artefacts, you will agree that it would have been silly of us not to do it. Indeed, Ramona Córdova aficionados and lovers are well too aware that seven long years have come to pass since the release of his first album, 'The Boy Who Floated Freely'. If he was a house music DJ, seven years would equate at least two careers in a row; if he was just an averagely famous songwriter, this would be heavy gamble. But because he is simply Ramona Córdova, this means nothing more than a few travels around the world, a string of doubts, a slightly longer than usual moment of reflection.
These last 7 years, our friend from Kingman, Arizona spent them wandering about; roaming between the flats of friends in the suburbs of Paris to abandoned homes he found on his travels; tending to his chickens in rural upstate New York, before flying on a plane with no money in his pocket to perform in México; sailing to the canary islands to search his roots, before getting kicked out by undercover police for an overstayed visa, or feeling the fierceness of a winter in Alaska broke down on the side of the road fixing his truck. Here, there, over there, by whatever unconventional means he got himself there, he also booked himself some shows, mocking his own renowned falsetto which, in the tornado of enthusiasm the neo-folk music scene, had more or less launched his career. On a darker note, he sometimes got lost and got unlucky to the point of spending nights in the streets of the big cities. Of course, we don't doubt for one instant that this last anecdote is a blessing for our promotional plan; but we mostly quote it for the light it sheds on the song collection that is 'Quinn to New Relationships'.
Which doesn't mean that it's a penniless record. A surreptitiously conceptual album (even if the only openly conceptual thing about it is the attempt to finish off a second album), it is a highly fleshy and sensuous record, the songs of which exist less through their more or less hazardous chord progressions than through the merry-go-round of events which Ramon plays at the foreground with his voice, his gestures, his strange exploits on the guitar or the piano. One can hear that clearly through the contrapunctual arrangements of gifted cellist Gaspar Claus (In Finé) soothed by those of Brazilian cellist Dom La Nena and Ukranian harpsichordist and pianist Marina Vozynuk (Harpsichord-spinet), Here, you won't hear those damn pizzicati and carpets of strings that you've been hearing over and over in every goddamn pop music record of the last 50 years but rather a mousse of more or less rational events which are indebted both to The Left Banke and The Zombies and to arid free improvised music, but which above all arrange the stream of contradictory sentiments, up to now left unexplored in pop music, which run free in the songs. That was the least Ramon and his companions could do to illustrate what is, at the core, a romantic diary, even if it is sung encoded so as to refresh the passion behind the vocals.
In seven years, Ramon hasn't only grown up, matured and mutated: he shed his skin as an artist. Now we throw the listener a challenge: try and find an equivalent, within all the currently existing musical genres, both indie and mainstream, to the little shed Ramona Córdova has built himself in the woods. Seven years of intense travelling and groping in the dark, this is exactly the time a folk music songwriter needs to become a great artist. The good news is, now that he's all grown up and great, Ramon only thinks of one thing: the future of things to come.
Press
FOCUS VIF

"Il a bossé torse nu sur des chalutiers, ramassé des tubercules aux noms improbables dans les champs, joué du violon à Moscou, pris l'avion avec moins d'un euro en poche, dormi sur le bitume de Boston et des Canaries, vécu dans une maison abandonnée de La Nouvelle-Orléans et tenté une nouvelle vie dans les bois en Alaska. De quoi faire germer un disque léger, céleste, empreint de grâce et de délicatesse. Magique pour ceux qui parviendront à s'y perdre. Un album [- Quinn To New Relationships -] qui ne laissera pas indifférent."

APACHE MAG

"Des morceaux baptisés de façon quasi onomatopéiques qui renferment des paroles souvent chantées en yaourt. C'est sans doute sur ce point que l'œuvre de Ramona se révèle unique et géniale, en usant de cryptophasie, pratique souvent constatée chez les jumeaux qui s'inventent ensemble un langage secret."

FRANCE INTER

"Comme si on avait été enfermé dans une cage de privation sensorielle, et qu'au sortir on appréciait enfin les merveilles du monde qui sont tous les jours sous notre nez, que seul le chant de Ramona nous donne à voir. (…) Au delà du bricolage expérimental, son chant asexué nous renvoie à un dieu de l'enfance, de la joie, de l'innocence retrouvée. Ce disque est une thérapie. (…) Il y a de la folie dans ce chant, de la folie qui guérit de la folie…" Erudit Doudam / André Manoukian

FRANCE INTER

"Sa voix perchée de lutin sauvage, ses acrobaties folks à la guitare, ses mélodies japonisantes, ses expérimentations sonores jubilatoires. [Ramona Córdova] est étrange, sensuel, et doux comme un adorable louveteau qui chante haut à la lueur de la Lune." Ouvert La Nuit

A L'ÉCOUTE (live report)

"Ramona Córdova nous offre la liberté de mettre les paroles que l'on veut sur ses chansons. Notre imaginaire n'a qu'à se laisser porter par la mélodie et la voix fluette de l'interprète."

LES INROCKUPTIBLES

"Sept ans plus tard, on retrouve, ébahi, la pop surnaturelle de cet Américain à voix et coeur d'enfant en fugue : une musique si légère, volatile, immatérielle que celle de ce nomade parti à pinces de l'Arizona pour la Voie lactée. Des contes de fées, des audioguides pour s'évader du monde et flotter librement." JD Beauvallet

MAGIC RPM

"C'est comme si ce gars malaxait fiévreusement les univers de Marin Marais et de Bob Dylan. Étrangeté et disproportion habitent cet album. Musique d'une chambre inconnue où l'on entend ces haïkus réinventés faire vibrer la voûte céleste. Musique farouchement vierge et insaisissable que l'on poursuit de rêve en rêve dans un pavillon dressé d'or et de noir."

SILENCEANDSOUND

"Si [Ramon] était resté plus de sept ans sans donner de nouvelles, ce n'était que pour amasser des expériences diverses à travers le globe pour nourrir sa créativité et offrir 'Quinn To New Relationships', bijou de sensibilité folk sur tapis de violoncelles (assurés par Gaspar Claus et Dominique Pinto alias Dom La Nena), de clavecins et de pianos (Marina Voznyuk) auréolées de guitares acoustiques sur lesquels le falsetto de Ramona Cordova fait des miracles."

LES INROCKUPTIBLES

"Dingue de son premier album, on alla même jusqu'à l'offrir à Thom Yorke – on ne fait pas ça tous les jours." JD Beauvallet

MILLEFEUILLE

"Je ne me risquerai à aucune comparaison musicale : l'américain est insaisissable. Il plane au-dessus de ses pairs avec la légèreté du papillon et semble sans attaches. Il faudra quelques secondes au public pour reprendre ses esprits comme si une étoile filante venait de passer trop près de nous."

CHRONIC'ART

"Ni musique pour enfants, ni conte musical, ni folk, ni musique de gitans mais un peu tout cela à la fois. Une musique qu'habite un supplément d'âme, sans doute la part la plus impalpable de ce disque et pourtant la dernière chose qu'il en restera."

LES INROCKUPTIBLES

"Ramon plane, très au-dessus des petites affaires du monde. Son disque ressemble à une plume d'ange qui viendrait se poser sur notre épaule de pauvre terrien, nous laissant entrevoir l'existence d'un monde plus doux. C'est une sorte de musique folk, mais le folk d'un pays qui n'existe sur aucune carte. Pas dans le monde réel."
44
Contact
Booking : samuel.muraillesmusic[at]gmail.com
Promo radio: benjamin[at]almost-musique.com
Promo presse: julien.rohel[at]gmail.com
Promo web: dali.zourabichvili[at]gmail.com
Listen
'Spring' (single version)

'Spring' EP (2013)

'Sung With the Birds'

'The Boy Who Floated Freely' LP (2006)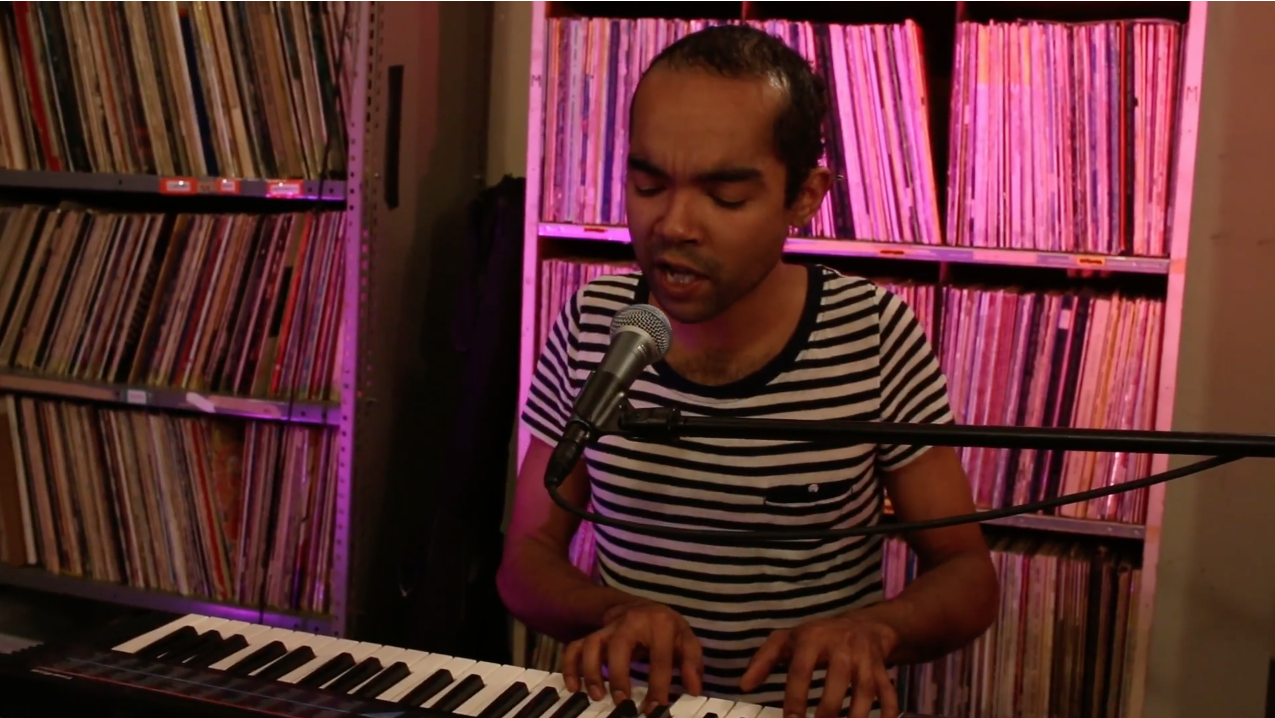 'Year One' live session @ WOBC 91.5 FM (2018)
Ramona Córdova
(US / Murailles Music - Clapping Music)
Next show
Pas de concert actuellement - No current show
Past show
Click on "date", "artist", "city" or "venue" to change the list display
| Date | City | Venue | With | Info | Event | Ticket | Edit |
| --- | --- | --- | --- | --- | --- | --- | --- |
| 17.06.2019 | Paris | Espace B | - | - | Event | - | > |
| 15.06.2019 | Lyon | Aux Bons Sauvages | Ghst | Info | Event | - | > |
| 08.06.2019 | Nancy (54) | Festival Stereolithe | - | Info | Event | ticket | > |
| 05.06.2019 | Paris | 1999 | Rémi Parson, Pale Regard | - | Event | - | > |
| 01.06.2019 | Porto (PT) | Festival Serralves em Festa | - | Info | Event | - | > |
| 31.05.2019 | Aveiro (PT) | VIC | - | Info | Event | - | > |
| 27.05.2019 | Bruxelles (BE) | Les Fabriques (en appartement) | - | - | Event | - | > |
| 26.05.2019 | Bruxelles (BE) | Labokube | - | Info | Event | - | > |
| 25.05.2019 | Namur (BE) | PointCulture | - | - | Event | - | > |
| 22.05.2019 | Genève (CH) | Urgence Disk | Lilium Sova | Info | Event | - | > |
| 21.05.2019 | Toulouse (31) | DAda | - | Info | Event | - | > |
| 20.05.2019 | Bordeaux (33) | Terremoto | William Fyke | - | - | - | > |
| 19.05.2019 | Gorges (44) | Gorges Déployées | - | - | - | - | > |
| 18.05.2019 | Rennes (35) | Le Marquis de Sade (Capital Taboulé) | Le Baiser de la Sorcière, Aztrazenacan | Info | Event | - | > |
| 17.05.2019 | Mayenne (53) | Le Rade | - | Info | Event | - | > |
| 16.05.2019 | Cherbourg (50) | Galerie Bër - Ballon Rouge | - | - | Event | - | > |
| 15.05.2019 | Alençon (61) | La Chapêlmèle | - | Info | Event | - | > |
| 14.05.2019 | Saint-Ouen (93) | Mains d'Oeuvres - Calendar Days | Charlène Darling | Info | Event | ticket | > |
| 12.05.2019 | Montpellier (34) | Micro Cosmiques (lieu TBC) | - | Info | Event | - | > |
| 09.05.2019 | Milano | IAM | - | Info | Event | - | > |
| 08.05.2019 | Faenza (IT) | Clandestino | - | Info | Event | - | > |
| 07.05.2019 | Perugia | T-Trane | - | Info | Event | - | > |
| 06.05.2019 | Roma (IT) | Fanfulla 5/a | - | Info | Event | - | > |
| 05.05.2019 | Avellino (IT) | Godot Art Bistrot | - | Info | Event | - | > |
| 04.05.2019 | Saint-Contest (14) | Festival Annulé - La Demeurée | Fleuves Noirs, Drache | Info | Event | - | > |
| 03.05.2019 | Troyes (10) | The Message | - | Info | Event | - | > |
| 03.05.2014 | Athènes (Gr) | Temps Zero | - | Info | Event | - | > |
| 06.04.2014 | Grand-Lancy/Genève (Ch) | Villa Bernasconi | - | Info | - | - | > |
| 03.04.2014 | Metz | Les Trinitaires | Eric Chenaux | Info | Event | ticket | > |
| 28.02.2014 | Nantes | Soirée Curieuse, Lieu Unique | - | Info | Event | ticket | > |
| 27.02.2014 | Lyon | Marché Gare | - | Info | Event | - | > |
| 22.02.2014 | Bruxelles | Botanique, La Rotonde | - | Info | Event | - | > |
| 20.02.2014 | Brest | La Carène | Angil & The Hiddentracks | Info | Event | ticket | > |
| 15.02.2014 | Evreux | L'Abordage | - | Info | Event | - | > |
| 14.02.2014 | Le May-Sur-Èvre | Le Maytiss'Bar | Zoë Fox, Colonel Cody | - | Event | - | > |
| 08.02.2014 | Clermont-Ferrand | La Coopérative de Mai | Connan Mockasin | Info | Event | - | > |
| 06.02.2014 | Reims | Espace Ludoval | - | Info | - | - | > |
| 25.01.2014 | Champneuville | Salle de la Mairie | - | Info | Event | - | > |
| 24.01.2014 | Nancy | Home Sweet Home Festival | Nicolas Quirin | Info | Event | - | > |
| 20.12.2013 | Genève (CH) | Usine PTR | Sophie Hunger | Info | Event | - | > |
| 15.12.2013 | Rennes | L'Antipode | Matt Elliott | Info | Event | ticket | > |
| 20.11.2013 | Laval | 6 par 4 | Powerdove | Info | Event | ticket | > |
| 19.11.2013 | Paris | Le Café De La Danse | Powerdove | Info | Event | ticket | > |
| 16.11.2013 | Pau | La Centrifugeuse | Shannon Wright | Info | Event | - | > |
| 15.11.2013 | Bayonne | Musée Basque | - | Info | Event | - | > |
| 22.10.2013 | Dijon | Festival Novosonic Off - Campus de l'Université - Atheneum bar | - | Info | Event | - | > |
| 21.10.2013 | Marseille | Le Grim | Daniel Bachman, Ryley Walker, Moondawn | Info | Event | ticket | > |
| 18.10.2013 | Niort | Le Camji | Egyptology, Orval Carlos Sibelius | Info | Event | ticket | > |
| 12.10.2013 | Poitiers | Festival le Circuit - Auditorium Saint Germain | - | Info | Event | - | > |
| 25.01.2013 | St Ouen | Mains d'oeuvres - Mofo festival | Lonesome french cowboy, Malka Spigel, Howe Gelb, George Kaplan Conspiracy, Thomas Belhom | Info | - | ticket | > |
| 30.11.2012 | St Nazaire | le Vip | - | - | - | - | > |
| 29.11.2012 | Limoges | Festival 'Melting Pop', Théâtre Expression 7 | - | - | - | - | > |