News
Bio
Laurent Gérard (Èlg, Opéra Mort), Ernest Bergez (Sourdure, Sourdurent, Kaumwald) et Clément Vercelletto (Kaumwald, Arlt) forment Orgue Agnès. Un trio au sein duquel les énergies sont équitablement réparties: Ernest au violon multi polaire et à la voix de grotte, Clément à la boite à rythme sexy rouillée, aux toms et aux roulements à billes, et Laurent au babil alien et à l'orgue à sept touches. On retrouve dans leur musique une prédilection pour les sonorités analogiques, les vocaux distordus et les rythmiques chaloupées et hypnotiques. Une sorte de transe jubilatoire et génialement foutraque, faite d'incantations élastiques, éclatées, en spirales, gueulées-miaulées, un funk de blancs chauds abrasif, un funk de noirs froids larvé, du free dub à scotch, du dree sub à fcotch… 
Leur premier album, « A Une Gorge », est sorti en novembre 2018 sur les labels Standard In-Fi (France, Tanz Mein Herz, Golem Mecanique…), three:four records (La Tène, Eloïse Decazes & Eric Chenaux, Norberto Lobo…) et A1000p.
FORMATION
Ernest Bergez : violon (basse), voix
Laurent Gerard : voix, synthétiseurs, guitalélé amplifié, harmonica
Clément Vercelletto : percussions, boîtes à rythmes, électronique, voix
ORGUE AGNÈS 'A UNE GORGE' AS STRANGE AND WONDERFUL AS IT SOUNDS
« DANCE 
This is dance music and this music dances.
We rub the music. We get rubbed. We get knee-deep in the music. We hang on it.
Dancing is a form of reflection – a form of listening. Our bodies reflect off of the music.
The music bounces and pings and pongs all around us.
The music is not inside us.
It is all around us and we grab it with our arching bodies – « a great ball of hot stuff » and we throw it
around. And it throws us around. It is soft and wild.
We dance outside of ourselves like laughter. What a dream.
« This is electric. »
A groove is light and subtractive space. It makes more space than it takes up.
And that space is for anything.
A Une Gorge is a dancehall.
REFLECTIVE SPACE 
This is reflective music and this music reflects.
When we talk about reflection we are not talking about contemplation, that is something else
altogether. Reflection happens between things, right there on the surface.
It bounces around- always moving.
Sunlight bounces off a window and blinds us.
Reflection is bouncing and dancing.
« And now I am free. I can hardly see in front of me »
PING-PONG BALLS / GORGE ET BOUCHE 
This is electrified ping-pong music. This music pings and pongs.
Ping-pong balls are commonly used in experimental piano music.
They are chancey things. And they are cheap; you can buy a wack of them for next to nothin'.
Orgue Agnès bounces in loose time and dances and reflects. It is reflective bouncing dance music.
With little effort – or little to no intention – ping-pong balls set off a derive of small detailed sounds.
They are lit alive – light and lighthearted.
They jump for joy. I am talking about Orgue Agnès and ping-pong balls.
A lot of A Une Gorge sounds like it was made with electrifc ping-pong balls bouncing inside of a throat or
a mouth.
A mouth-full of electricity. 
A throat (like a mouth) is a filter.
« wah wah woah wow-wah. »
A mouth-throat is a wah. Une gorge is a dancehall.
Orgue Agnès A Une Gorge and this music sounds like it was made inside of one.
As strange and wonderful as it sounds.  »
© Eric Chenaux
Press
MAGIC RPM

"Sur A une gorge, Orgue Agnès marie violons abrasifs et glossolalies chamanes, beatboxes rouillées et orgues à sept touches, traversés par l'électricité et l'esprit de transe. En résulte une sorte de funk des Hautes- Pyrénées, ou dub-dancehall incantatoire primitif, faisant grincer les jointures entre traditions et modulaire."

WIRE

"But when they get to churning, look out - ''Lou Nina'' rumbles and shimmies like Bone Machine-era Tom Waits covering Prince."

THE QUIETUS

"Orgue Agnès's À une gorge is a jamboree of herky-jerky hypnotised chicken grooves, a weird and wild collection that stomps and shimmies its way to being one of the finest underground French releases of 2018"

PARTTIMEAUDIOPHILE

"These dudes can swing and create delirious sound scapes and Krautish expectations. Can. Yep, Can. They might be songs crafted with layers and layers of overlays and edits, but it comes across as improvisational. There is a sense of abandonment of convention. A search for something not heard before. It took about three listens, and a look at one of their live video gigs before I really heard it. What a wonderful place they've created."

LE DRONE

"Orgue Agnès enfin (soit un Opéra Mort et deux Kaumwald), qui évolue à l'évidence dans un monde parallèle : dans une galaxie lointaine, les cœurs chavirent sur leur passage et tous leurs morceaux cartonnent, poussés par des Dj's soudoyés en coulisses. Pour nous, c'est un peu différent mais pas moins cool ; le son fourmille joyeusement, il y a un violon gratté comme une mandoline, un chanteur qui sait se faire lyrique dans sa langue saturée, un batteur au milieu, et tous se tiennent près de leurs effets/ synthés, hochant la tête en cadence du début à la fin."
8485
Contact
Booking : jullian.muraillesmusic[at]gmail.com
Promo : promo.muraillesmusic[at]gmail.com
Pro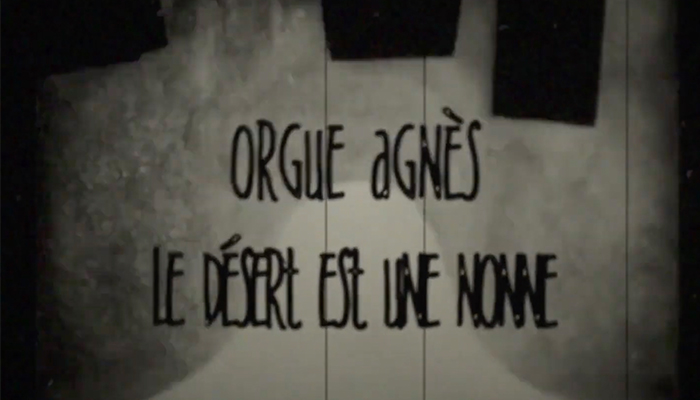 'Le Désert est une nonne' (Julien Ethoré-Bonet, 2019)
Discography
'A UNE GORGE'

A1000P, STANDARD IN-FI, THREE:FOUR RECORDS

2018

LP / CD / Digital
ORGUE AGNÈS
FR / Standard In-Fi / Three:four Records / A1000P.
Next show
Pas de concert actuellement - No current show
Past show
Click on "date", "artist", "city" or "venue" to change the list display
| Date | City | Venue | With | Info | Event | Ticket | Edit |
| --- | --- | --- | --- | --- | --- | --- | --- |
| 07.09.2019 | Eupen (BE) | Meakusma Festival, Kulturzentrum Alter Schlachthof Eupen | Charlemagne Palestine, Felix Kubin, Céline Gillain & Catherine Plenevaux, Davy Kehoe, Tashi Wada Group (feat. Julia Holter and Corey Fogel) etc. | Info | Event | ticket | > |
| 06.03.2019 | Bruxelles (BE) | Les Ateliers Claus | Manuel Troller | Info | Event | ticket | > |
| 05.03.2019 | Paris (75) | Petit Bain | Borja Flames, Gilles Poizat | Info | Event | ticket | > |
| 03.03.2019 | Genève (CH) | Cave12 | Riyosuke Kiyasu | Info | - | - | > |
| 02.03.2019 | Lausanne (CH) | Le Bourg | Lucas Ravinale et Loup Uberto | Info | Event | ticket | > |
| 01.03.2019 | Lyon (69) | Le Périscope | Charles Mahaco | Info | Event | ticket | > |
| 28.02.2019 | Marseille (13) | École supérieure d'art et de design Marseille-Méditerranée | brui*** | Info | Event | - | > |
| 01.09.2018 | Aiguelèzes (81) | Festival Baignade Interdite | Bob Log III, Yegor Zabelov, Fumaça Preta, Osilasi | Info | - | - | > |
| 07.07.2018 | Cherbourg (50) | La Cherche | - | - | - | - | > |
| 04.07.2018 | Thiers (63) | Métro | - | - | - | - | > |
| 30.06.2018 | Toulouse (31) | DADA | - | - | - | - | > |
| 29.06.2018 | Aurillac (15) | Festival La Fête de l'Ecole, Studio le Chaudron | Guili Guili Goulag, kaumwald | - | Event | - | > |
| 16.12.2017 | Poitiers (86) | Confort Moderne : Réouverture | The Ex, François Virot, Ninos du Brasil | - | Event | - | > |
| 06.08.2017 | Ainay-le-Vieil (18) | Château Perché Festival | - | - | Event | - | > |
| 04.08.2017 | Germ-Louron (65) | Bistrot Chez Lily | - | - | - | - | > |
| 25.03.2017 | Bruxelles (BE) | Rumsteek | La Tène | - | - | - | > |
| 24.03.2017 | Montreuil (93) | Sonic Protest, La Marbrerie | La Tène, Golden Oriole | - | - | - | > |
| 23.03.2017 | Rennes (35) | Le Terminus | Irritatör Raskognet | - | - | - | > |
| 22.03.2017 | Tours (37) | Canadian Café | Futuroscope | - | - | - | > |
| 25.02.2017 | Marcillac-Vallon (12) | Guingois | - | - | - | - | > |
| 24.02.2017 | Clermont-Ferrand (63) | Cave Relax | - | - | - | - | > |
| 22.02.2017 | Tarnac (19) | Le Magasin Général | Johann Mazé | - | - | - | > |
| 17.09.2016 | Marseille (13) | L'Embobineuse | Société Étrange, Somaticae | Info | - | - | > |
| 14.09.2016 | Genève (CH) | cave12 | - | Info | - | - | > |