News
Bio
Impulsée par Murailles Music, la rencontre entre la folk hantée de Matt Elliott et les textures chimériques de VACΛRME promet de vous plonger dans une douce brume, avant de vous faire chavirer sous une pluie de cordes. En quinze ans et huit albums, le songwriter de Bristol a su imposer sa capacité à composer de véritables chansons-monde qui n'ont jamais peur de dépasser le cap des dix minutes. De son coté le trio à cordes n'a eu de cesse, depuis sa création en 2012, de se réinventer aussi bien en trio qu'au fil de diverses collaborations (Stranded Horse, Rone, Villeneuve & Morando).
Ici, parce qu'il est question de bien plus qu'un classique accompagnement, VACΛRME révélera l'essence d'un songwriting rare, sillonnant à travers les mélodies, au plus près d'elles et jusque dans le bois des instruments. Les murmures de Matt Elliott se loveront tendrement au creux des ouïes des violons et du violoncelle, au risque de voir en surgir ses plus profonds hurlements.
FORMATION
Matt Elliott : guitare, voix
Carla Pallone : violon
Christelle Lassort : violon
Gaspar Claus : violoncelle
Avec le soutien de FGO – Barbara, de l'Adami (société civile pour l'Administration des Droits des Artistes et Musiciens Interprètes) et du CNV.

Encouraged by Murailles Music, the encounter between Matt Elliott's haunted folk and the chimerical textures of VACΛRME is the promise of an immersion in a soft mist, before being overwhelmed under a rain of strings. In fifteen years and eight albums, the Bristolian songwriter established his ability to compose genuine "chansons-monde" that are never afraid to exceed the ten-minute mark. For its part, since its formation in 2012, the string trio has constantly been reinventing itself, both as a trio and through various collaborations (Stranded Horse, Rone, Villeneuve & Morando).
Here, because it is about much more than a conventional accompaniment, VACΛRME will reveal the essence of a rare songwriting, furrowing through the melodies, as close to them as possible, right into the wood of the instruments. Matt Elliott's murmurs will tenderly curl up in the violins' and the cello's sound holes, at the risk of seeing his deepest howls arise from them.
LINE-UP
Matt Elliott : vocals, guitar
Carla Pallone : violin
Christelle Lassort : violin
Gaspar Claus : cello
Press
TSUGI

"Matt Elliott, guitariste et chanteur anglais à la folk crépusculaire, dépressive certes, mais sublime, accompagné ici du trio à cordes VACΛRME. Début du rêve sur "The Calm Before" et ses prophétiques "here comes the storm". Les violons de Christelle Lassort et Carla Pallone ainsi que le violoncelle de Gaspar Claus habillent subtilement la ballade — pas question d'étouffer la guitare de Matt Elliott et son grain de voix ouaté sous un tas de cordes larmoyantes à la Puccini."
7875
Contact
Booking  : amaury.muraillesmusic[at]gmail.com
Promo: promo.muraillesmusic[at]gmail.com
Pro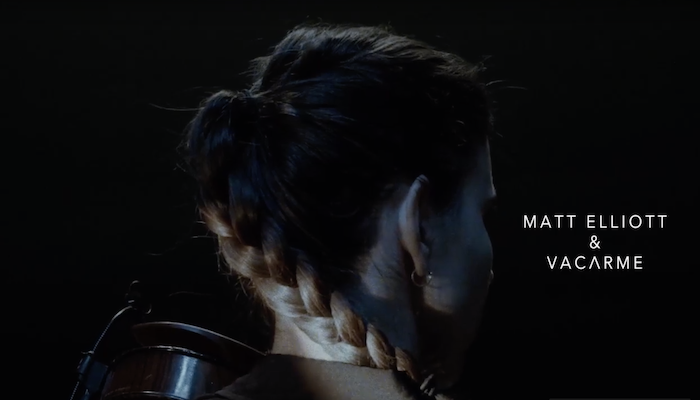 Introducing MATT ELLIOTT & VACΛRME (video by AS HUMAN PATTERN, 2019)
MATT ELLIOTT & VACARME
(UK / FR) / Murailles Music
Next show
Pas de concert actuellement - No current show
Past show
Click on "date", "artist", "city" or "venue" to change the list display
| Date | City | Venue | With | Info | Event | Ticket | Edit |
| --- | --- | --- | --- | --- | --- | --- | --- |
| 24.10.2019 | Nancy | L'autre Canal | David Chalmin | Info | Event | ticket | > |
| 06.07.2019 | Rennes | Festival les Tombées de la Nuit, Chapelle du Conservatoire | - | Info | Event | - | > |
| 12.04.2019 | Hyères | Festival Faveurs de Printemps, Église Anglicane | - | Info | Event | - | > |
| 06.04.2019 | Lille | Grande salle, PZZLE Festival | This is the kit | Info | Event | ticket | > |
| 01.04.2019 | Paris | Café de la Danse | Marc Melià | Info | Event | ticket | > |
| 31.03.2019 | La Riche (37) | Prieuré Saint-Cosme, Festival Superflux | Seabuckthorn | Info | Event | ticket | > |
| 30.03.2019 | Niort | Festival Nouvelle(s) Scène(s), Cloitre de l'hôpital | Helio Polar Thing, Léonie Pernet | Info | Event | ticket | > |
| 22.03.2019 | Istanbul | Nova Muzak, Borusan Music House | Colleen | Info | Event | ticket | > |
| 21.03.2019 | Nyon | Temple de Nyon | - | - | Event | - | > |
| 02.03.2019 | Agen | Chapelle du Martrou | - | Info | Event | - | > |
| 28.02.2019 | Rezé | La Soufflerie - Scène Conventionnée de Rezé | - | Info | Event | - | > |
| 27.02.2019 | Allonnes (72) | Péniche Excelsior | Lucas Ravinale & Loup Uberto | Info | Event | ticket | > |
| 29.11.2018 | Metz | Les Trinitaires | - | Info | Event | - | > |
| 24.11.2018 | Poitiers | Le Tap - Théâtre Auditorium de Poitiers | - | Info | - | - | > |
| 15.09.2018 | Rome | Festival Ō - MNR Terme di Diocleziano | - | Info | Event | - | > |
| 12.09.2018 | Paris | FGO Barbara | Lucas Ravinale et Loup Uberto | Info | Event | ticket | > |