Lucas Ravinale et Loup Uberto
News
Bio
« On pensait bien, un jour, faire un répertoire de cette habitude prise après le concert : s'installer à la table et jouer simplement les percussions et les chants, comme les grands mères à la fin du repas. On retourne chercher le répertoire d'Italie du Nord, les langues passées, et l'on espère danser. »
Lucas Ravinale et Loup Uberto (deux des côtés du triangle Bégayer) reprennent les polyphonies du travailleur des champs.
Le répertoire d'Italie du nord (Bergame, vallée de Po, Piémont, Vénétie), traditionnellement féminin et chanté a cappella, est ici emmené vers la danse par un duo de chants et percussions sans territoire. Pandeiros, tamburelli, tambours de fanfare et vieux postes radios modifiés conduisent une transe étrange où rugissent des chants de partisans, de militaires pacifiés, de paysans espiègles.
FORMATION
Lucas Ravinale : voix, percussions
Loup Uberto : voix, percussions
" It's been a long time since we thought about a set we could build with this habit : to sit around a table after the concert and play our songs and percussions frugally, like a bunch of grandmas at the end of a meal. We've been hunting some songs from north Italy, some old languages, and we hope this will begin a dance. "
Lucas Ravinale and Loup Uberto (two musicians from Bégayer) pick up field-workers polyphony.
North-Italian repertoire (Bergamo, Po valley, Piemonte, Venezia), traditionally sing "a capella" by a group of women, here delivered by a song-and-percussions duo. Pandeiros, tamburelli, fanfare-drums and old circuit bended radio-transistors bring up a strange trance with songs from partisans, pacified militaries and playful peasants.
LINE-UP
Lucas Ravinale : voice, percussion
Loup Uberto : voice, percussion
Press
TELERAMA

"Bucoliques et radicaux, un peu perchés, aussi, ces deux zozios des champs ont trouvé dans les vieilles tarentelles du nord de l'Italie de quoi nourrir leur fibre expérimentale et leur poésie de l'étrange : comme à la campagne, avec les tambours (pandeiro, tamburello…) ainsi que quelques ondes radiophoniques trafiquées, pour accompagner les voix hâves, qui vacillent sous le soleil."
7622
Contact
Booking : jullian.muraillesmusic@gmail.com
Promo : promo.muraillesmusic@gmail.com
Pro
Listen
La Biondina Di Voghera

(2018)

Peppino entra in stanza

(2018)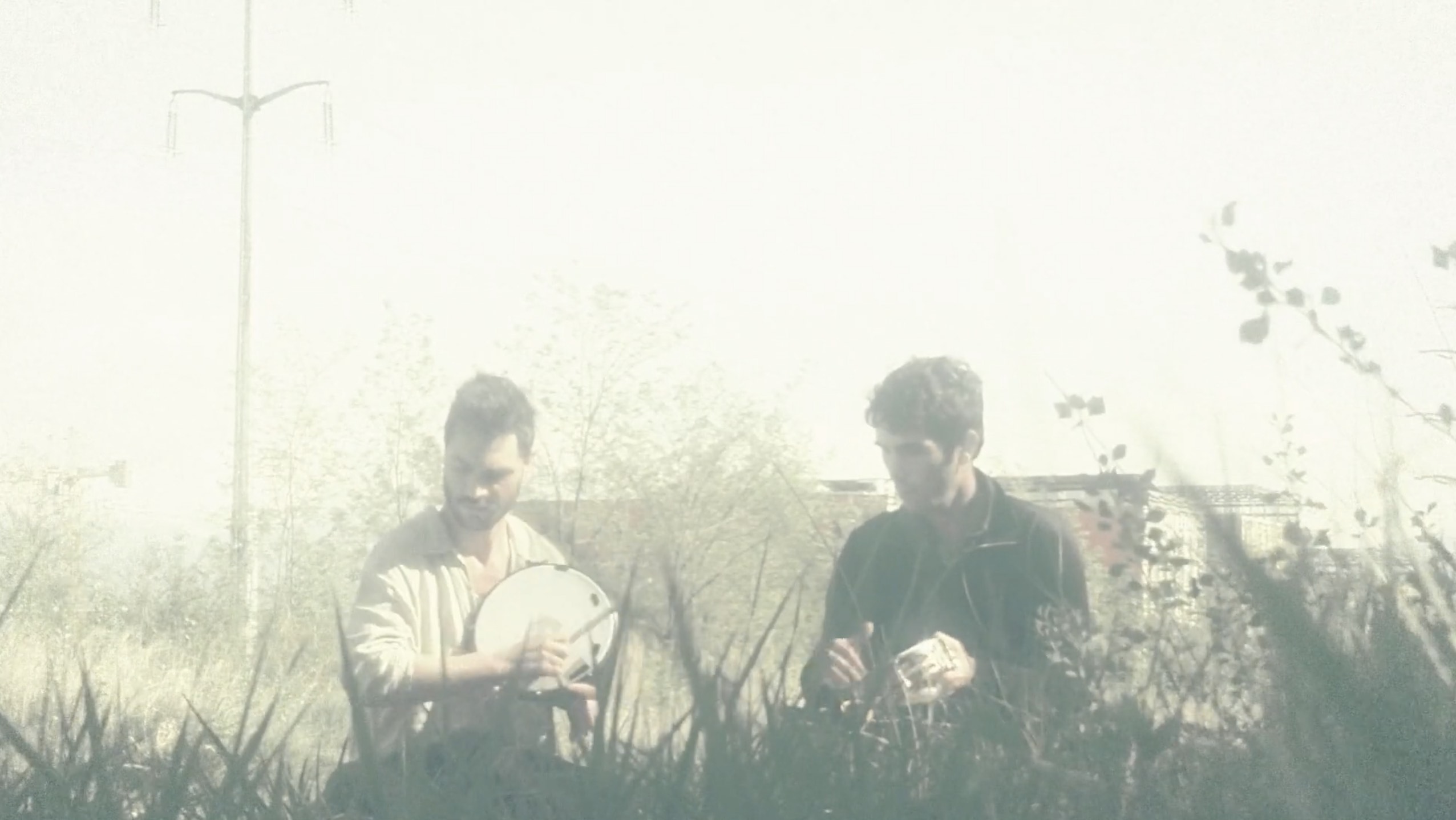 'La biondina di Voghera' (2019)
Lucas Ravinale et Loup Uberto
Next show
Pas de concert actuellement - No current show
Past show
Click on "date", "artist", "city" or "venue" to change the list display
| Date | City | Venue | With | Info | Event | Ticket | Edit |
| --- | --- | --- | --- | --- | --- | --- | --- |
| 17.01.2020 | Charleroi | Le Vecteur (librairie le Rayon) | l'Éclair | Info | Event | - | > |
| 11.01.2020 | Brighton (UK) | Rose Hill Arts | Bégayer, DJ Eggs Legs | Info | Event | ticket | > |
| 13.10.2019 | Marseille (13) | La Déviation | - | Info | Event | - | > |
| 12.10.2019 | Beauvezer (04) | Festival Musiques d'automne, Salles des Fêtes de Beauvezer | - | Info | - | - | > |
| 09.10.2019 | Aspremont (05) | Chapelle Notre Dame de Suanne | Namioto | - | Event | ticket | > |
| 20.09.2019 | Saint-Christophe-en-Oisans (38) | La Cordée | - | Info | - | - | > |
| 13.09.2019 | Nantes (44) | Blockhaus DY10 / set/30' | - | Info | - | - | > |
| 29.08.2019 | Grenoble (38) | Le Ciel (COMPLET) | Deerhoof, Portron Portron Lopez | Info | Event | ticket | > |
| 06.07.2019 | Mettray (37) | Festival Intergalactique | - | Info | - | - | > |
| 29.06.2019 | Fontaine (38) | Vog | - | Info | Event | - | > |
| 28.06.2019 | Paris | Festival Tremble Parlure, Pan Piper | Arlt (QUATUOR), Hervé Bouchard (Lecture) | - | Event | ticket | > |
| 22.06.2019 | Metz (57) | Médiathèque Verlaine | - | Info | Event | - | > |
| 21.06.2019 | Bruxelles | Le Brass | Antoine Loyer, ensemble GAML | Info | Event | - | > |
| 19.06.2019 | Livet-et-Gavet (38) | | - | - | - | - | > |
| 03.05.2019 | Milan (IT) | Circolo IAM | Forse, NODEF, ᖇᗩᎥᑎᗷᗝᗯ ᑕᗩǤᗴ, LLL | - | Event | ticket | > |
| 30.04.2019 | Varces (38) | Les Jardins de Malissoles | - | Info | Event | ticket | > |
| 09.03.2019 | Grenoble | Le Café du Nord | Horse in the house (quartet de Gilles Poizat) | Info | - | - | > |
| 08.03.2019 | Montoison (26) | HICAM | Horse in the house (quartet de Gilles Poizat) | Info | Event | - | > |
| 03.03.2019 | Genève | Bongo Joe | - | - | Event | - | > |
| 02.03.2019 | Lausanne | Le Bourg | Orgue Agnès | Info | Event | ticket | > |
| 01.03.2019 | Lyon | BIMBO | Osilasi | - | Event | - | > |
| 27.02.2019 | Allonnes (72) | Péniche Excelsior | MATT ELLIOTT & VACARME | Info | Event | ticket | > |
| 26.02.2019 | Cinq-Mars-La-Pile (37) | "Al Ristorante El Pompei" | Axel Gaudron | - | Event | - | > |
| 25.02.2019 | Paris | L'International | Horse in the House (Gilles Poizat), Philippe Crab | Info | Event | - | > |
| 24.02.2019 | Chalon-sur-Saône | Collectif La Méandre | BOBi, Chicaloyoh | - | Event | - | > |
| 02.02.2019 | Paris | Choc Thermique aux Grands Voisins | - | Info | Event | - | > |
| 12.09.2018 | Paris | FGO Barbara | Matt Elliott & VACΛRME (création) | Info | Event | ticket | > |
| 21.07.2018 | Ambert | Place de l'église | Bégayer | - | - | - | > |
| 01.07.2018 | Jallais (49) | Tapette Fest | - | Info | Event | ticket | > |
| 30.06.2018 | Jallais (49) | Tapette Fest | l'ocelle Mare | Info | Event | ticket | > |
| 29.06.2018 | Paimboeuf | Café de la Loire | - | Info | Event | - | > |
| 28.06.2018 | Douarnenez | Chez Jeanine | - | Info | Event | - | > |
| 25.06.2018 | Rennes | Le Terminus bar | - | - | Event | - | > |
| 23.06.2018 | Cugand | Oddjavel fest | - | Info | - | - | > |
| 22.06.2018 | Cugand | Oddjavel fest | - | Info | - | - | > |
| 17.06.2018 | Ingrandes | Plage d'Ingrandes-sur-Loire | - | - | Event | - | > |
| 16.06.2018 | Le Mans | La Fonderie | - | Info | - | - | > |
| 24.05.2018 | Paris | Le Cirque Electrique | Sourdure, L'ocelle Mare | - | Event | - | > |