News
Bio
Quand on l'entend seulement sans le voir, il n'est pas évident d'affirmer que Julien Desprez pratique la guitare électrique. L'instrument-roi du rock'n roll, ce jeune musicien français le détourne avec une spontanéité salutaire grâce à toute une batterie de modifications internes ou externes. Il joue avec ses micros, en transforme le son grâce à des pédales ; on dirait que ses mains font des claquettes sur les cordes. Ses pièces en live sonnent comme des cut-ups sonores, proches de la musique dite « glitch » ; on pense notamment au producteur techno québécois Akufen alias Marc Leclair , avec lequel il partage ce goût des soubresauts : son corps danse presque lorsqu'il joue et le rapport qu'il entretient avec sa guitare évoque parfois les gestes d'un magicien qui aurait marabouté un dresseur de fauves.
'Acapulco' s'est formé autour d'un concept : développer une forme musicale capable d'accueillir et de faire exister tous types de sons venant de n'importe quel domaine ou esthétique musicale.
De cette idée est né un solo de guitare électrique qui fait s'entrechoquer ces différents éléments sonores. Un mixte d'actions manuelles sur l'instrument, couplé à un jeu de pédales d'effets aux pieds, a créé une approche non conventionnelle de la guitare, évoquant une danse. Le corps s'est alors retrouvé au centre du questionnement artistique d'Acapulco'.
Aujourd'hui, l'objet est de s'appuyer sur cette singularité pour la pousser plus loin. Nous portons notre attention sur l'ensemble des éléments qui font concert, et décidons d'un éclairage radical qui prolonge l'esthétique d''Acapulco' : trois barres de leds blanches très puissantes et réactives créent une lumière électrique, électronique qui vient soutenir le propos musical. Ces trois lampes, actionnées par Julien grâce à des pédales de contrôle, commandent en direct depuis la scène des effets lumineux très simples, tranchés, incisifs, à l'instar de sa musique. 'Acapulco Redux' est né !
Durée : 30′ à 40′
FORMATION
Julien Desprez : Guitare, Lumières et performance
Grégory Edelein : Conception et mise en scène
Cécile Guigny/Gregory Joubert : Réalisation du dispositif
La Muse en Circuit – Centre national de création musicale : Production
Collectif Coax— Compagnie Nationale, La Dynamo de Banlieues Bleues : Coproduction
When you only hear it without seeing it, it's not easy to say that Julien Desprez plays electric guitar. This young French musician plays with a salutary spontaneity and many internal and external modifications on his instrument. Playing with his microphones, transforming the sound with pedals; it seems like his hands are tap-dancing on the chords. His live tracks sound like cut-up sounds, close to the so-called glitch music; reminding us of the Quebec techno producer Akufen alias Marc Leclair, with whom he shares the taste of jolting: his body almost dances when he plays and the relationship he has with his guitar can evoke the actions of a magician who would have hypnotised a tiger trainer.
'Acapulco' was born from a concept: to develop a musical form capable of receiving and bringing to life all sounds, from any field or musical aesthetic.
This idea led to an electric guitar solo which makes these different sound elements collide. An unconventional approach to the guitar, which evokes a dance, has been created by a mix of manual actions on the instrument coupled with footwork on the effect pedals. The body thus became central to 'Acapulco''s artistic quest.
The current aim is to build on this singularity in order to take it further. We focus our attention on all the elements which characterise our approach and have settled on radical lighting to extend 'Acapulco''s aesthetics: three very powerful and reactive white LED bars create an electric, electronic light that supports the musical meaning. Julien operates these three lamps with pedals, controlling the very simple, sliced, incisive light effects directly from the stage, as he does his music.
All pedals – musical and luminous – are scattered on the stage to create different spaces, depths and perspectives as well as make the artist move. This simple system chops up the flow of sound, time and space, and allows new musical densities to emerge. Music without taking space into account becomes unthinkable. Everything is connected.
However, everything can also be disconnected. Each sonorous, spatial, luminous and visual space can also, at once, detach itself from the rest to exist in a way that allows it to tell its own story.
Here, Julien draws from what he appears to be, but also what he hides, from what we hear, and where we hear it from. The performance is vivid, and exposes his fragility.
Performance for a musician, an electric guitar and a lighting system
'Acapulco Redux' is in line with the 'Acapulco' project created in 2013; it is a solo by Julien Desprez, born from his sonorous, corporeal and formal questioning during the past few years. A musical form which could welcome and bring to life a vast sound territory was developed by this first solo.
Through his footwork on the effect pedals and his inspiration from tap-dancing, Julien has developed, thanks to 'Acapulco', a unique guitar-playing technique. In this way, he has transcended the boundaries of the guitar to make a new instrument, blended with a drum kit or a human organ – a constantly evolving instrument, which goes beyond instrumental practice to evoke a dance.
'Acapulco Redux' extends these intentions by further questioning the physical and gestural relationship inherent to the guitar medium. In this new phase of the project, Julien plays a device which puts sound, space and light on an equal footing. The stakes of the performance are slightly displaced and the perspectives are multiplied. Tensions, ruptures, shocks – whatever they are composed of – create a singular space-time.
LINE-UP
Julien Desprez : On Stage : Guitar, lights, effects and performance of 30 – 40 min 'Acapulco Redux'
Grégory Edelein : Conception and direction
Cécile Guigny/Gregory Joubert : Realization of the light set
La Muse en Circuit – Centre national de création musicale : Production
Collectif Coax — Compagnie Nationale, La Dynamo de Banlieues Bleues : Coproduction
Press
TOUS LES FESTIVALS

"Julien investit l'espace, il se déplace pendant les séquences de noir absolu : on le pense ici mais l'éclair d'un néon nous le révèle là-bas, comme s'il voulait flasher dans nos subconscients les bribes d'une chorégraphie imaginaire. Il quitte l'espace scénique sous un effet de pulsations cardiaques produites par ses coups répétés sur sa guitare. Et c'est sur ce son et lumières radicalement novateur que s'achève le Tribu Festival"

BE YEAH

"Le spectateur, telle une tique sur la crinière d'un poney au galop se retrouve balloté mais irrémédiablement accroché par ces morceaux de bravoure intense"

TELERAMA

"Ce solo de guitare mélange des éléments sonores mais aussi visuels et chorégraphiques. Le musicien virtuose est placé au cœur d'un dispositif dans lequel il joue de la guitare, actionne des pédales lumineuses et se met en mouvement."
7495
Contact
Booking : jullian.muraillesmusic[at]gmail.com
Promo : promo.muraillesmusic[at]gmail.com
Pro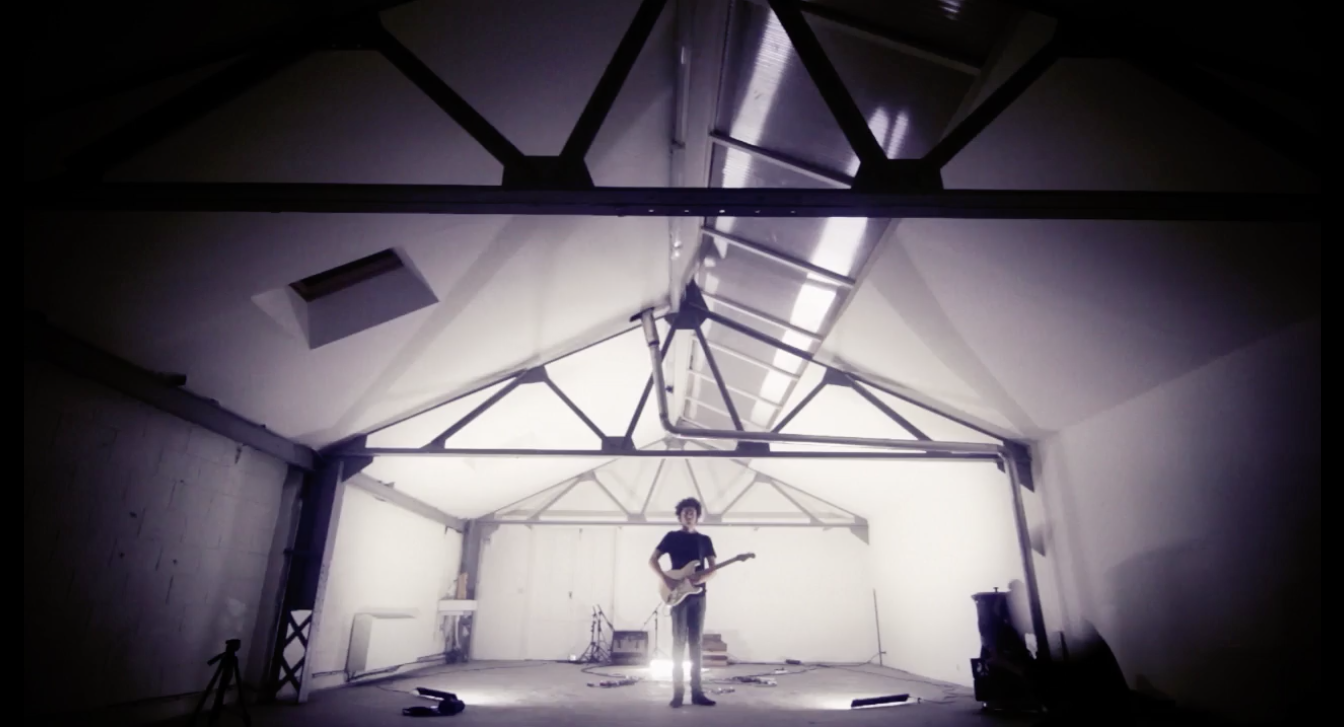 ACAPULCO REDUX (2016)
Julien Desprez
FR / Collectif Coax
Next show
Pas de concert actuellement - No current show
Past show
Click on "date", "artist", "city" or "venue" to change the list display
| Date | City | Venue | With | Info | Event | Ticket | Edit |
| --- | --- | --- | --- | --- | --- | --- | --- |
| 25.10.2019 | Buenos Aires (AR) | Sala Argentina - Centro Cultural Kirchner | Violeta García | Info | Event | - | > |
| 11.10.2019 | Agen (47) | Le Florida | Pass-Murailles Accords-Mouvements : Will Guthrie, Blast | Info | Event | ticket | > |
| 10.10.2019 | Berlin (DE) | Berghain " Morphine Modern / Morphine Contemporary " | Goat (JP), Sugai Ken, Mario Batkovic, Thomas Brinkmann, Ma, DJ Die Soon, rena And Vojtek Havlovi, YPY | Info | Event | ticket | > |
| 01.10.2019 | Strasbourg | Gymnase SUAPS | - | Info | - | - | > |
| 20.09.2019 | Sopot (PL) | Open Source Festival / Państwowa Galeria Sztuki | xin, Thomas Ankersmit, Jung an Tagen, Kali Malone | Info | Event | ticket | > |
| 06.07.2019 | Bamberg (DE) | Festival FK:K, Kunstraum Kesselhaus | Camilla Sparksss, FAKA, Tomaga, The Bug ft Moor Mother, Damien Dubrovnik, Jung An Tagen, Cantenac Dagar | Info | Event | - | > |
| 04.07.2019 | Tolmin (SI) | Sajeta - Art & Music Festival | - | Info | Event | ticket | > |
| 23.05.2019 | Strasbourg | Musica _ soirée de lancement au Café de la Biennale | - | Info | Event | - | > |
| 29.04.2019 | Gand (BE) | Théâtre Minard | Dan Weiss Metal Jazz | Info | Event | ticket | > |
| 22.03.2019 | Perpignan | La Casa Musicale | - | Info | Event | ticket | > |
| 21.03.2019 | Toulouse | DAda | - | Info | Event | - | > |
| 20.01.2019 | Rennes | Festival autres mesures au FRAC Bretagne | Stéphane Garin, l'Ensemble Sillages avec Sophie Deshayes & Jean-Marc Fessard et les élèves du conservatoires. Manuel Adnot et Melaine Dalibert. | Info | Event | - | > |
| 14.12.2018 | Salvador(Bahia) (BR) | CMC Festival, Goethe-Institut Salvador-Bahia | Arto Lindsay (US) et Thiago Nassif (BR) feat. Tambores do Mundo (BR) | Info | Event | ticket | > |
| 08.12.2018 | Campinas City (BR) | | duo avec Mauricio Takara | - | - | - | > |
| 05.12.2018 | São Paulo (BR) | SESC Pinheiros | - | - | Event | - | > |
| 16.11.2018 | Amiens | 'Festival Haute Fréquence' à La Briqueterie (Pass-Murailles 'Musiques au Sol Podorythmie') | l'ocelle Mare, Me Donner | Info | Event | - | > |
| 25.10.2018 | Louvain (BE) | STUK | Andrea Belfi, Red Brut | Info | Event | - | > |
| 11.10.2018 | Poitiers | Le Planétarium - Espace Mendès France | - | Info | Event | - | > |
| 03.05.2018 | Nimes | Delco Festival | - | - | - | - | > |
| 28.04.2018 | Krems (AT) | Donau Festival | - | Info | - | - | > |
| 07.04.2018 | Rennes | L'Antipode | - | - | - | - | > |
| 05.04.2018 | Bruges (BE) | More Music Festival | - | - | - | - | > |
| 10.03.2018 | Pantin | CND Pantin | - | - | - | - | > |
| 08.03.2018 | Issy Les Moulineaux | Le Cube | - | - | - | - | > |
| 10.11.2017 | Paris | Le Silencio | - | - | - | - | > |
| 08.10.2017 | Dijon ​ | Tribu Festival | - | - | - | - | > |
| 05.10.2017 | Budapest ​(HU) | UH Fest | Couloir Gang | Info | Event | - | > |
| 04.10.2017 | Paris | NEMO Biennale, Le Trianon | - | - | - | - | > |
| 29.09.2017 | Zurich (CH) | Match and Fused | - | - | - | - | > |
| 22.09.2017 | La Haye (NL) | Todaysart | Thomas Ankersmit, Laurel Halo, Sote + Tarik Barri + Arash Bolouri + Behrouz Pashei | Info | Event | - | > |
| 29.04.2017 | Malmö, Sweden | Intonal Festival (SE) | Holly Herndon, William Basinski, Grouper, Oren Ambarchi, Kara-Lis Coverdale | Info | Event | - | > |
| 01.04.2017 | Brest | Passerelle Centre d'art contemporain | - | - | - | - | > |
| 10.02.2017 | Audincourt | Le Moloco | - | Info | Event | ticket | > |
| 03.12.2016 | Rio De Janeiro, Brazil (BR) | Novas Frequencias (BR) | Andreas Trobollowitsch, Xiu Xiu, Black Zone Myth Chant, Elysia Crampton, Mechatok | Info | Event | - | > |
| 23.11.2016 | Avignon | Collection Lambert | - | Info | - | - | > |
| 10.11.2016 | Mulhouse | La Filature - Scène Nationale | - | Info | - | - | > |
| 20.01.2016 | Pantin | La Dynamo de Banlieues Bleues, | - | - | - | - | > |