News
Bio
Le duo libano-montréalais Jerusalem In My Heart (JIMH), collaboration audiovisuelle de musiques arabes contemporaines réunissant le musicien et producteur Radwan Ghazi Moumneh et le cinéaste expérimental Charles-André Coderre, a vu le jour il y a une quinzaine d'années sous forme de manifestations artistiques in situ uniques et éphémères, composées de divers éléments multimédias et théâtraux. En 2012, Moumneh entreprend une refonte du concept; il se tourne alors vers l'enregistrement de la musique de JIMH et forme un duo de performances live dites « reproduisibles » centrées sur des projections 16 mm en boucle, celles-ci faisant désormais partie intégrante de l'identité artistique de JIMH. Ces images de pellicules affectées sont d'ailleurs transmutées pour créer les pochettes d'album de JIMH.
La musique de JIMH repose sur un métissage de chants mélismatiques arabes, de bouzouki et de traitements sonores résolument contemporains: synthétiseurs modulaires, bancs de filtres, bruitisme électroacoustique, échantillonnages, etc. La musique enregistrée de JIMH rend hommage aux sons bruts et distorsionnés de la cassette audio, pilier de la culture musicale arabe, sur un fond de musique électronique contemporaine. Les paroles de Moumneh, profondément expressives, laissent transparaître son engagement sociopolitique: l'œuvre de Moumneh « est empreinte d'émotion et d'une ardente nostalgie », selon The Wire; « [une musique] actuelle et urgente qui se situe, d'un pas assuré, au carrefour du personnel et du politique », dit Ad-Hoc.
Les trois albums de JIMH, tous lancés via l'étiquette expérimentale Constellation Records, ont figuré parmi la sélection des albums de l'année de plusieurs publications, dont The Quietus, The Wire et A Closer Listen, entre autres. JIMH compte de multiples tournées en Europe et au Canada, ainsi que quelques passages aux États-Unis et de nombreuses performances sur la scène beyrouthine. Moumneh a également été commissaire invité au célèbre festival Le Guess Who? Il est cofondateur du légendaire studio d'enregistrement Hotel2Tango, où il a travaillé avec de nombreux artistes montréalais à titre de producteur et d'ingénieur du son. JIMH s'est associé à Suuns pour un album collaboratif sur l'étiquette Secretly Canadian et a apparu dans une édition du club vinyle Grapefruit Record Club.
Jerusalem In My Heart (JIMH) has been a live audio-visual happening since 2005, with Montréal-based producer and musician Radwan Ghazi Moumneh at its core. Moumneh is a Lebanese national who has spent a large part of his adult life in Canada and has been a fixture of the Montréal independent music community from his early days as guitarist in various notable 90s bands to his tireless activity as a sound engineer and producer over the last decade. Moumneh is also active in the Beirut and Lebanese experimental music scenes, where he spends a few months every year.
With performances occurring 1-3 times per year, no two Jerusalem In My Heart events have ever been the same: configurations have ranged from 2 to 24 participants, with varying degrees of theatrical stage action alongside a film/video component. Moumneh's vocals and purposefully blown-out sonic sensibility have been the consistent thread, but the music of JIMH has never repeated itself either – one of the reasons Moumneh has resisted any official documentation or definitive recording of the project over the past eight years. At long last, in 2012 Moumneh cleared time and mental space to record a song cycle that cements the foundations of JIMH as an intensely vocal-driven musical project.JIMH has always been an immersive sonic and visual live experience; on the musical side, an evolving effort to forge a modern experimental Arabic music that weds melismatic singing in classical Arabic modes to electronic compositions with a punk-rock production sensibility. Mo7it Al-Mo7it captures and conveys all of this, while emphasising the intimacy and narrative pace that focused, intentional studio recording allows. The result is a unique and profoundly emotive album of contemporary Arabic music, a stunningly subtle first record for a musical project that resisted documentation or any sort of fixity for so many years. Moumneh's voice has become a powerfully authentic instrument and his production techniques – applying distortion, space echo and delay to varying degrees – lend a timeless intensity to the recording. Saturated synths and the overdriven signals of Moumneh's acoustic playing on buzuk and zurna reinforce the reigning sensibility, providing bracing counterpoint to the vocals and lovely, searching instrumental narratives in their own right.
Jerusalem In My Heart currently exists around the core of Radwan Ghazi Moumneh carrying musical duties and Montreal filmmaker Charles-André Coderre projecting hand-made visuals using analog 16mm film & 35mm slides on multiple site-specific screen installations.
Press
WIRE SOUND

"Le chant solo déploie de longues arabesques dans un micro en or (et non d'argent haha) qui nous aide à traverser la Méditerranée, pour nous plonger ensuite dans une ambiance expérimentale distordue, rappelant les phases les plus extrêmes d'un Velvet Underground perdu dans le désert. Car la première forme d'expression de JIMH, son ADN, c'est bien l'expérimentation, qu'il parvient à allier avec inventivité à la musique traditionnelle." Live report Mofo 2019

BOOMKAT

"Stunning exploration of traditional Arabic music and electronic processing by pivotal Montrealer Radwan Moumneh (boss of the legendary Hotel2Tango studio), including unmissable meshes of rolling rhythms with spectral 'tronics in 'Bein Ithnein', and Coil-like digital vocal manipulation on 'Thaha, Mish Roujou', Thahab', along with entrancing theatric orchestrations of trad vocals, buzuk and zurna with synths and tape FX. "

FRANCE CULTURE

«Le « Bouzouk granulaire » de Jerusalem In My Heart, musicien singulier qui, depuis ses débuts en 2005, aime à varier les performances, donne des concerts à chaque fois différents (impliquant de 2 à 24 personnes en fonction de la mise en scène choisie). Radwan Ghazi Moumneh a longtemps refusé d'enregistrer, de documenter son chant, c'est seulement son deuxième album en plus de dix ans.»

LES INROCKS

"Radwan Ghazi Moumneh alias Jerusalem In My Heart creuse un sillon passionnant, mêlant musiques arabes traditionnelles et avant-gardisme noise ou electro. A l'opposé de toute superposition stérile, il orchestre une tension féconde, un geyser d'émotions brûlant et glacé. Si le projet est d'abord scénique, l'écoute du disque est tout sauf anecdotique. Des mirages dans une mégalopole, des drones dans le désert – les seuls qu'on voudrait y voir."
7944
Contact
Booking France : jullian.muraillesmusic[at]gmail.com
Pro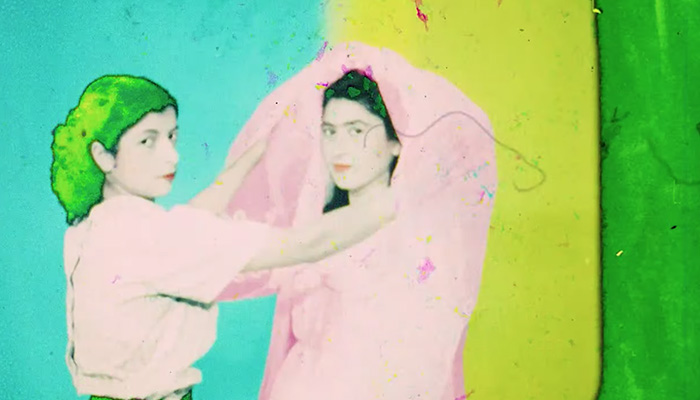 Thahab, Mish Roujou', Thahab' (from 'Daqa'iq Tudaiq', video by Charles-André Coderre, 2018)
Discography
'Daqa'iq Tudaiq'

Constellation Records

2018

LP / CD / Digital

'If He Dies, If If If If If If'

Constellation Records

2015

LP / CD / Digital

'Suuns + Jerusalem In My Heart'

Secretly Canadian

2015

LP / CD / Digital

'Mo7it Al-Mo7it'

Constellation Records

2012

Digital
JERUSALEM IN MY HEART
Next show
Pas de concert actuellement - No current show
Past show
Click on "date", "artist", "city" or "venue" to change the list display
| Date | City | Venue | With | Info | Event | Ticket | Edit |
| --- | --- | --- | --- | --- | --- | --- | --- |
| 04.06.2019 | Bruxelles (BE) | Ancienne Belgique - AB | - | Info | Event | ticket | > |
| 03.06.2019 | Lille | Bulle Café / Maison Folie Moulins | Temps Calme | Info | Event | ticket | > |
| 02.06.2019 | Bamberg (DE) | Lichtspiel Kino & Odeon Kino | - | Info | Event | - | > |
| 01.06.2019 | Kriens (CH) | Südpol | - | Info | Event | ticket | > |
| 31.05.2019 | Lyon | Festival Nuits Sonores / H7 | La Colonie de Vacances, Tapan | Info | Event | ticket | > |
| 30.05.2019 | Genève (CH) | La Reliure | - | Info | Event | - | > |
| 29.05.2019 | Bulle (CH) | Ebullition | - | Info | Event | ticket | > |
| 28.05.2019 | Toulouse | DAda | - | Info | Event | - | > |
| 27.05.2019 | Saintes (17) | Dans l'Oeil du Silo | - | Info | Event | ticket | > |
| 26.05.2019 | Nantes | Festival WNWH / Stereolux | Flotation Toy Warning, Tropical Fuck Storm, Von Pariahs | Info | Event | ticket | > |
| 24.05.2019 | Pully (CH) | Festival Sound Sound / Cinema CityClub | Les Chats Persans de Bahman Gobadhi (projection) | Info | Event | ticket | > |
| 23.05.2019 | Rotterdam | WORM (NL) | Marta de Pascalis | Info | Event | ticket | > |
| 28.01.2019 | Lausanne (CH) | Le Bourg | Aaron Moore & Erik K Skodvin | Info | Event | ticket | > |
| 27.01.2019 | Nancy | Galerie My Monkey | - | Info | - | - | > |
| 26.01.2019 | Saint Ouen | Festival MOFO - Mains d'Oeuvres | Louder Than Death, Strasbourg | Info | Event | ticket | > |
| 14.11.2018 | Paris | Petit Bain | Good Luck In Death, Florian Abou Yehia | Info | Event | ticket | > |