News
Bio
Une performance qui crée un monde cru où tout a droit de cité. Issu d'un dialogue entre pratiques populaires brésiliennes et pratiques expérimentales et performatives, Coco réunit danses samba traditionnelles et noise music.
À la croisée des arts graphiques, chorégraphiques et sonores, Coco questionne les limites entre pratiques sonores et chorégraphiques tout en se jouant des identités. Issu d'un questionnement sur le rapport son/geste à travers la danse brésilienne Samba de Coco, le projet déplace le regard et transforme le musicien en danseur et le danseur en musicien. 
À travers un dispositif sonore composé d'instruments répartis sur l'ensemble de la scène et jouables par tous les performeurs, la forme musicale est rendue inséparable de la chorégraphie et de l'espace.
 La partition lumière est intense et irise le plateau en créant des déséquilibres parmi les performeurs. Elle vise à changer le regard sur les interprètes tout au long de la pièce.
Transversal, Coco se joue des classifications esthétiques.
Julien Desprez, compositeur et directeur artistique, né a Paris, il commence la guitare à 16 ans. Très investi dans la scène jazz parisienne, il co-fonde le collectif Coax en 2008. Il crée en 2014 son premier solo Acapulco qui affirme son identité sur la scène internationale. Depuis, il considère la guitare électrique comme un dispositif sonore et spatial et non plus tel un instrument.
 Sa recherche artistique s'articule autour de plusieurs questions : que faire des corps et des mouvements générés à travers la musique ? Comment sortir de la musique par la musique ? Autant de sujets qu'il développe à travers ses performances 'Cut up is a Dance(r)', et 'Acapulco Redux'.
Performance sonore et chorégraphique pour 6 interprètes
Durée : 1h
Tout public à partir de 10 ans
Création : mai 2019, Centre national de la danse de Pantin, dans le cadre de la Biennale Némo 2019
Première au Festival Musica, Théâtre de Hautepierre à Strasbourg le 3 octobre 2019.
FORMATION
Julien Desprez : Guitare, Performance, Direction
Ana Rita Téodoro : Performance
Pauline Simon : Performance
Lucas Lagomarsino : Performance
Julien Loutelier : Percussions, Performance
Clément Vercelletto : Synthétiseur Modulaire, Performance
Gregory Joubert : Dispositif sonore
Miléna Grange : Régie générale
Maël Pinard : Conception du dispositif lumière
Guillaume Marmin : Conception du dispositif lumière
Bastien Mignot : Regard extérieur
Gregory Edelein : Regard extérieur
Instruments utilisés : guitares électriques, percussions, synthétiseurs modulaires et tamancos (chaussures en bois brésilienne)
Production : La Muse en Circuit, Centre National de Création Musicale – Alfortville
Coproduction : Collectif COAX, Festival Musica – Strasbourg, Centre National de la Danse de Pantin
Diffusion : Murailles Music
Avec le soutien du Théâtre de Vanves, Scène Conventionnée Danse, de la Biennale Nemo et l'aide du CNC-DICREAM, du Fond pour la Création Musicale (FCM) et de la SPEDIDAM.
With this performance, Julien Desprez lays down the foundations for a raw environment where there's no such thing as taboo. Originating at the crossroads between Brazilian popular culture and experimental performative practices, "Coco" confronts traditional Samba dance with noise music.
Graphic design, choreography, and sound art are interwoven in a bid to question each discipline's definition, all the while playfully dealing with ideas on identity. The relationship between sound and gesture is examined through the prism of Brazilian "Samba de Coco" offering a new perspective of musicians as dancers and vice-versa. Instruments are dotted across the entirety of the stage and can be played by each and every performer, therefore inextricably linking musical elements to movements, choreography, and space.
The stage is bathed in the colour of an intense light  which counterbalances the performers, challenging the way in which we perceive them throughout the piece. Cross-disciplinary in nature, "Coco" aims to test the limits of aesthetic classifications.
Julien Desprez is a composer and artistic director born in Paris. He began playing guitar at the age of 16 and has since become a key element in the Parisian jazz scene, co-founding Collectif COAX in 2008. In 2014, he created his first solo production entitled 'Acapulco', which brought him international acclaim. His approach to the guitar has continued to expand: he now sees it as a device to craft space and sound, rather than simply as an instrument to be played. Desprez' artistic practice is axed around several questions: how should we deal with the body and its movements triggered by music? Is it possible to use music to break down the medium's own boundaries? These topics are explored in performances such as 'Cut up is a Dance(r)', and 'Acapulco Redux'.
Sound, video and choreography for six performers
Length: 60 mins
Recommended for ages 10 and up
Original production: May 2019, CND Pantin, France, as part of the Nemo Biennial 2019
Premiered at Festival Musica, Théâtre de Hautepierre, Strasbourg, France, October 3 2019.
Cast:
Julien Desprez: Guitar, Performer, Director
Ana Rita Téodoro: Performer
Pauline Simon: Performer
Lucas Lagomarsino: Performer
Julien Loutelier: Percussion, Performer
Clément Vercelletto: Modular synth, Performer
Gregory Joubert: Sound design
Maël Pinard: Light design
Guillaume Marmin: Light design
Bastien Mignot: Consulting
Gregory Edelein: Consulting
Instruments: Electric guitars, percussion, modular synths, tamancos (Brazilian clogs)
Production: La Muse en Circuit, Centre National de Création Musicale –Alfortville
Co-production: Collectif COAX, Festival Musica – Strasbourg, CN D Pantin
Distribution: Murailles Music
Supported by: Théâtre de Vanves, ARCADI Ile-de-France, CNC-DICREAM, Fonds pour la Création Musicale (FCM), and SPEDIDAM.
Contact
Booking : jullian.muraillesmusic[at]gmail.com
Promo : promo.muraillesmusic[at]gmail.com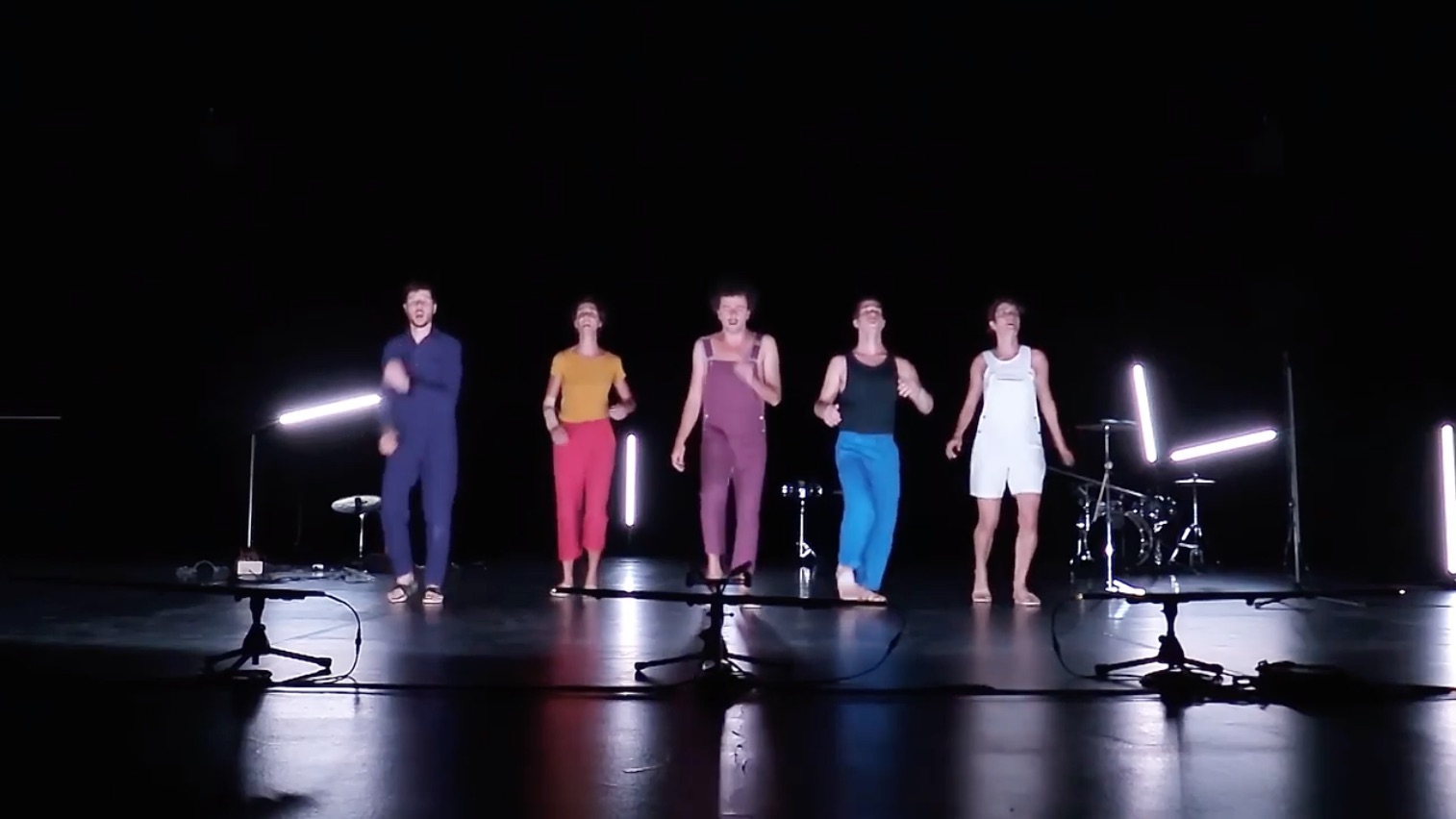 'Coco' (© Romain Al'l, 2019)
'COCO' Julien Desprez
Next show
Pas de concert actuellement - No current show
Past show
Click on "date", "artist", "city" or "venue" to change the list display
| Date | City | Venue | With | Info | Event | Ticket | Edit |
| --- | --- | --- | --- | --- | --- | --- | --- |
| 19.12.2019 | Créteil (94) | Biennale Némo, Maison des Arts de Créteil (MAC) | - | Info | Event | ticket | > |
| 03.12.2019 | Montreuil (93) | Nouveau Théâtre de Montreuil, Biennale Némo | - | Info | Event | ticket | > |
| 03.10.2019 | Strasbourg (67) | Festival Musica, Théâtre de Hautepierre | - | Info | Event | ticket | > |