News
Bio
L'A est jaune, dit-on
il est Energie qui se diffuse ;
l'U est blanc,
Il est Lumière ;
l'M est noir,
Il est Ténèbres.
AUM est la syllabe sacrée de la religion hindoue. Elle signifierait quelque chose comme 'je fais révérence', et représenterait tout à la fois – le verbe divin sous une forme audible, le feu du Soleil ; l'Unité, le Cosmos, l'immensité de l'Univers ; le passé, le présent, l'avenir ; l'ensemble de la Connaissance. Elle contiendrait aussi l'essence même de tous les sons qui ont été, sont, ou seront prononcés.
Depuis 2010, AUM Grand Ensemble, formation hybride entre orchestre de chambre, big band et gamelan ultra-moderne – au sens d'ensemble d'instruments résonnants auquel l'entendait Olivier Messiaen – se penche sur une sorte de source commune à différentes traditions musicales – des musiques de la Renaissance à celles de Morton Feldman, Ligeti, Grisey ou LaMonte Young en passant par celles, ancestrales et innombrables, d'Asie. Celle d'une certaine sensibilité corporelle, organique à la matière sonore. Une musique où l'écriture et l'improvisation sont constamment au service l'une de l'autre, toutes deux guidées par la recherche d'un son vivant, mouvant – une musique de masses, de fusions de timbres, de textures, de processus plus que d'évènements, s'interrogeant sur le rôle de la voix, l'évolution de matières continues, les formes longues, les accords non tempérés, le phénomène acoustique des battements, le résonnant, le silence… 
Dans 'You've never listened to the wind', battements, résonances ou tempéraments sont traîtés d'une façon totalement originale avec l'utilisation de claviers issus d'un gamelan indonésien dont les sons se mêlent à ceux de l'instrumentarium de l'ensemble.
La musique s'articule ici autour de fragments de poèmes de Fernando Pessoa issus du Gardeur de troupeaux, recueil que Pessoa se plaisait à raconter qu'il l'avait écrit presque d'une traite, un jour de mars 1914, dans un état proche de la transe, habité par son hétéronyme Alberto Caïro, qu'il voyait en marginal, héritier à la fois de Lao–Tseu, Milarepa et Socrate. Chacun des poèmes de ce recueil est comme un koan, un précis du désapprendre, impliqué par la nécessité de renouer avec la plénitude des sensations…
FORMATION
Ellen Giacone : voix
Julien Pontvianne : clarinette, saxophone
Antonin–Tri Hoang : clarinette, saxophone
Jean-Brice Godet : clarinettes, cassettes
Amélie Grould : vibraphone
Stéphane Garin : percussions
Julien Loutelier : percussions
Jozef Dumoulin : piano
Tony Paeleman : fender rhodes
Alexandre Herer : électronique
Richard Comte : guitare
Youen Cadiou : contrebasse
Simon Tailleu : contrebasse
Léo Margue : direction
Pierre Favrez : Ingénieur du son
The A is yellow, as we say
It is Energy spreading itself ;
The U is white,
It is Light ;
The M is black,
It is Darkness.
AUM is the sacred syllable of the Hindu religion. It would mean something like 'I currys', and would represent all at once – the divine verb in an audible form, the Fire of the Sun ; Unity, Cosmos, the vastness of the Universe ; the past, the present, the future ; the whole of Knowledge. It would also contain the very essence of all the sounds that have been, are, or will be uttered.
Since 2010, AUM Grand Ensemble, hybrid band between a chamber orchestra, a big band and an ultra-modern gamelan – in the sense of set of resonant instruments that Olivier Messiaen defined – reflects upon a kind of common source of different music traditions – from Renaissance's musics to the musics of Morton Feldman, Ligeti, Grisey or LaMonte Young, and those, ancestral and innumerable, from Asia. The source of a certain physical, organic sensibility to the sound matter. A music in which composition and improvisation are constantly serving each other, guided by the search of  a living, shifting sound – a music about masses, timbre melting, textures, about processes more than events, reflecting upon the role of the voice, evolution of continuous matters, long forms, non-temperated tunes, the acoustic phenomenon of beats, resonant, silence… 
In 'You've never listened to the wind', beats, resonances or tuning are approached through a totally original point of view by the use of keyboards from an Indonesian gamelan mixed with the instrumentarium of the ensemble.
The music is built around some fragments of Fernando Pessoa's poetry coming from The Keeper of Sheep, poems that Pessoa wrote, as he liked to relate, during only few hours, a day of march 1914, almost in a trance, filled by his heteronymous Alberto Caïro, who was, according to him, a marginal, at once heir to Lao-Tseu, Milarepa and Socrates. Each of those poems are like a koan, a statement of unlearning, implied by the need to reconnect with the fullness of sensations …
LINE-UP
Ellen Giacone : voice
Julien Pontvianne  : clarinet, saxophone
Antonin-Tri Hoang  : clarinet, saxophone
Jean-Brice Godet : clarinets, tapes
Amélie Grould : vibraphone
Stéphane Garin : percussions
Julien Loutelier : percussions
Jozef Dumoulin : piano
Tony Paeleman : fender rhodes
Alexandre Herer : electronics
Richard Comte : guitar
Youen Cadiou : bass
Simon Tailleu : bass
Léo Margue : conductor
Pierre Favrez : sound engineer
Press
Mediapart

"Magnifique fractale du silence."

Jazz News

"La voix d'Ellen Giacone, sublime d'inaltérable fragilité, apporte à cette composition magistrale une force lumineuse qui en fait rayonner les multiples facettes. Un bijou (…) qui touche efficacement et concrètement au coeur."

Jazz Magazine

"D'une renversante beauté."

 

Citizen Jazz

"

Julien Pontvianne

sait s'y prendre en matière d'étirement des sons quand il s'agit d'aller quérir leur essence brute, leur vivacité, leur profondeur. Un rêve éveillé qui vous transporte littéralement dans des dimensions insoupçonnées." 

Revue & corrigée

"(…) l'évidence d'un cheminement dont peu importe qu'il aille emprunter tour à tour à l'esprit de la renaissance ou à celui de

John Cage

, tant il resplendit d'une seule et même croyance en l'universalité et la permanence du sentiment musical." 

Impro Jazz

"Extraordinaire choc esthétique. La musique de

AUM

apparaît tout aussi sensuelle qu'elle est hautement conceptuelle. Elle nous entraîne loin, très loin hors de nous-même, dans un monde sonore voluptueux dont on revient changé. Cette musique au tempo de rituel, qui accorde du temps au temps, s'apparente bien à un bain purifiant." 

Culture Jazz - élu Oui!

"Un magnifique voyage qui nous conduit aux fondements de la musique. L'écriture et la démarche audacieuse et déterminée de

Julien Pontvianne

nous semblent exemplaires et passionnantes parce qu'elles se démarquent totalement des stéréotypes des grandes formations - son inspiration semble parcourir cinq siècles et cinq continents."

Maître Chroniques

"Une musique d'une puissance discrète mais implacable - qui crée l'indicible et fait valser tous les repères. L'impression d'accéder à un ailleurs sans nom se fait jour."

Franck Bergerot

{:en}

''Stunning beauty.''

{:}

Franpi Barriaux

{:fr}

 

{:}{:en}'"

Julien Pontvianne

knows how to stretch the sounds when it's about their rough essence, their vivacity, their depth. (...) a daydream who brings you literally in unsuspected dimensions."{:}

Ludovic Florin

{:en}

''Extraordinary aesthetic shock. AUM's music appears just as sensual as it is highly conceptual. It drives us away, very far beyond ourselves, in a voluptuous world of sounds from which we come back changed. Closed to a ritual, allowing time to time, this music is similar to a real purifying bath.'' 

{:}

Denis Desassis

{:en}

''A music of a discreet but implacable power - that creates the unspeakable and alters all the benchmarks. The feeling to reach a somewhere without a name emerges. Julien Pontvianne and his musicians hold the time at their fingertips, compress and stretch it according to their will.'' 

{:}
9572
Contact
Booking : amaury.muraillesmusic[at]gmail.com
Promo : promo.muraillesmusic[at]gmail.com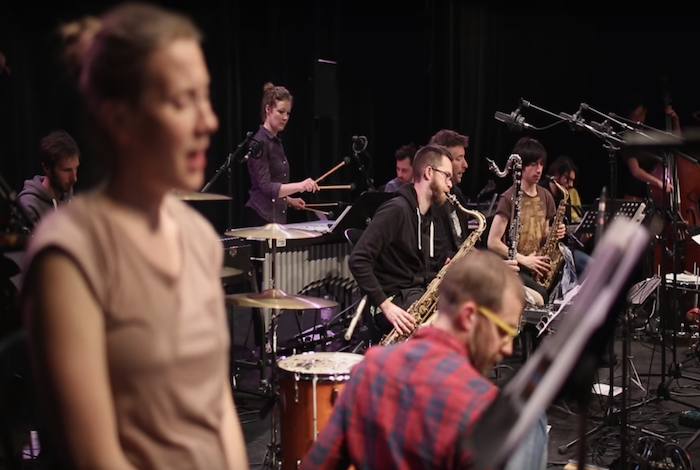 AUM Grand Ensemble - Teaser #2
Discography
'You've never listened to the wind'

'Silere'
AUM Grand Ensemble
Next show
Pas de concert actuellement - No current show
Past show
Pas de concert actuellement - No current show